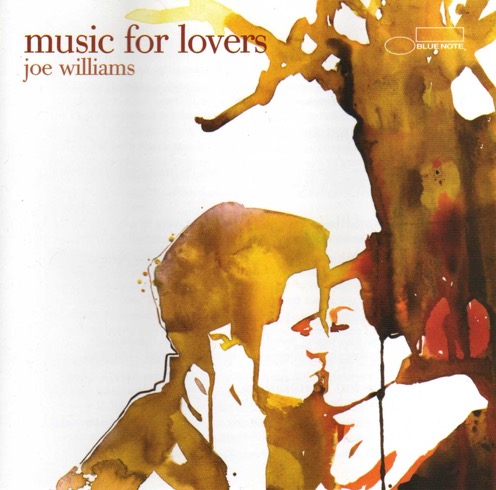 BEFORE he recorded the dreamy love songs on this CD, Joe Williams was known mainly as a blues-shouting boy singer with a band. Admittedly the band was the hottest in the country – Count Basie's – while Williams was a blues singer of supreme elegance and taste. His high baritone had a warm, burnished sound, with each syllable impeccably formed; his manner was devilish yet suave. Around 1955, he and Basie played the snobby Empire Room of New York's Waldorf-Astoria Hotel. Even as he wailed about wanting "a little lovin'" from his gold-toothed "gal who lives up on a hill," Joe came off like the classiest guy in the room.

In 1957 his voice became a fixture of the bedroom, not just the ballroom. That was the year he made his most popular album,
A Man Ain't Supposed to Cry
, a slightly bluesier answer to Sinatra's
In the Wee Small Hours
. From then on, Basie's hard-swinging "Number-One Son" was equally famous for purring bachelor-pad ballads with sweetness and simplicity. This edition of a new Blue Note series,
Music for Lovers
, is drawn from the love-song albums Williams made for Roulette through the early '60s. The jazz police grumbled about those records –
Metronome
called them "far away from what Joe can and should do" – but they were big career-builders. From the '60s through the '90s, Williams appeared dozens of times on the
Tonight
show; articulate and charming, he was as welcome on talk-show panels as he was in front of the band.

When asked about the singers he'd loved in his youth, Williams named a host of crooners: Perry Como, Pha Terrell (the ethereal high tenor who popularized "Until the Real Thing Comes Along"), Herb Jeffries. In the late '40s he was entranced by Nat King Cole's hit singles with strings, including "Nature Boy." As he told DJ Michael Bourne in 1994: "I don't know if you have any idea what that meant to the black artist. We used to sit and talk and wonder if we would ever get a chance to work with that kind of support, that kind of beauty."

It happened to Williams on Roulette. After
A Man Ain't Supposed to Cry
, he made
Joe Williams Sings About You
(1959) with star soloists and the graceful string writing of Jimmy Jones. Two Depression-era chestnuts,
You're a Sweetheart
and
The Very Thought of You
, are sung with their rare verses; Harry "Sweets" Edison adds his chatty muted trumpet. Ben Webster's swaggering tenor lends some muscle to a Rodgers and Hart serenade,
You Are Too Beautiful
. The album was grounded by Basie's longtime guitarist, Freddie Green, whom Williams revered as a gentleman who always swung.

Right after leaving Basie in late 1961, Williams began touring with Edison's quintet. Their album
Together
included a breezy look at Irving Berlin's
Always
, a song Williams had crooned as a near-unknown in 1945. "I sang it with the verse and got a thirteen-week job out of it," he recalled. His cuddly version of
Candy –
a
number-one hit that year for Johnny Mercer and Jo Stafford – came in response to a tip from Nat Cole. In the '40s, Williams would rush to hear Cole's trio whenever they came to his hometown of Chicago. One day at the Downtown Theater, Cole demonstrated
Candy
for him at the piano. "Joe, you should sing this," he said, handing him the sheet music. Williams performs it here with a smile in his voice and the bashful pride of a boy on prom night.

Even in his last performances – he died in 1999 at eighty – Williams's ballad singing was as lovely as ever. But few of his albums offer more pleasure than the ones sampled here.