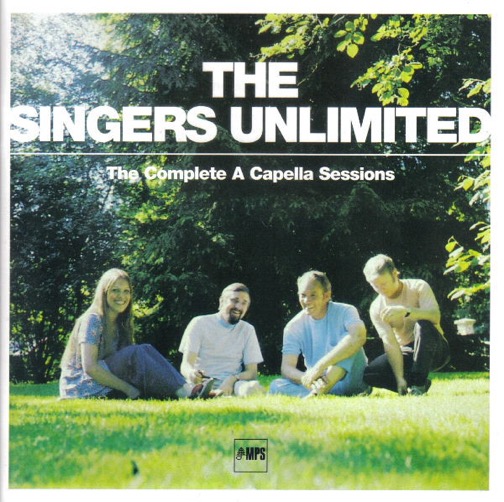 A capella
group singing is an art that separates the vocal masters from the second-rate. With no bass player to anchor the pitch and no drummer to control the rhythm, the singers need to have the strictest musical virtues: faultless intonation and time, a harmonic sense to equal any orchestral section player, the ability to subordinate the self to an ensemble that thinks and hears as one.

Few groups, if any, have taken the art of a capella to such dizzying heights as The Singers Unlimited. Between 1970 and 1980, this quartet of American jingle and studio singers recorded fifteen LPs in Germany. Their three
A Capella
albums, gathered in this set, are milestones of their kind: a wedding of extraordinary vocal technique and studio technology that could never be replicated live. Four voices became a symphony of overdubbed lines, with so many intricacies of harmony, rhythm, and dynamics that only a musician could pinpoint all the subtleties.

But you don't have to be a musician to enjoy them. The marvel of The Singers Unlimited is in the effortless beauty of the finished product. They perfected the sort of creamy-vanilla sound popularized in the '60s by such American vocal groups as the Johnny Mann Singers, the J's with Jamie, and Brazil '66. The quality is breezy; the voices are so lacking in vibrato, texture, drama, and sex that they seem a step removed from reality. The Beach Boys sang about catching the perfect wave; for The Singers Unlimited it was about the perfect blend. It's hard to imagine how the words come across with such clarity and feeling. Lincoln Briney, one of the most gifted young studio and group singers in the States, recalls the "tremendous impact" that TSU's albums had on him as a teenager. "They were my musical education," Briney says. He's still astonished at the members' "uncanny ability to connect with each other. Very few groups achieve this oneness. It's so ethereal and so beautiful."

The first volume of
A Capella
earned one of the most esteemed record industry awards in Germany, the Deutscher Schallplattenpreis. The jury stated: "Even taking into account the possibilities presented by sophisticated recording techniques, the effects achieved here by three men and one woman border on the impossible." Amazingly, TSU recorded each of its albums in a week. Today, when many of the highest-paid stars in pop are also the most musically inept, it can take a year of patchwork recording and repair work to make a Jennifer Lopez or a Jessica Simpson sound like a real singer.

The Singers Unlimited could never have happened without the wizardry of two men: group member and arranger Gene Puerling, who in the '50s had masterminded a groundbreaking vocal quartet, the Hi-Lo's; and Hans Georg Brunner-Schwer, owner and engineer of the German label MPS. It was Brunner-Schwer who heard TSU's first effort – a 1967 demo of the Beatles song "The Fool on the Hill" – and gave them the chance to create a decade of magical work.

The writing was done by Gene Puerling. His formal training, as a youth, had consisted of two piano lessons and some choral classes. Everything else was innate talent, self-schooling, and experience. "I just wanted to find my own way of doing things, something that would sound different," he said. The Hi-Lo's would set a standard that no vocal group (besides the Singers Unlimited) has ever matched. After their 1964 breakup, Puerling was living in Chicago and trying to break into the commercial jingle field.

He found a way when he teamed with three of the area's top jingle singers. Since the age of eighteen, the wholesomely pretty Bonnie Herman had made a staggering living as the pitch-perfect voice of Oldsmobile, Dippity-Do hair gel, Wrigley's Spearmint Gum, and countless other products. Another self-taught wonder, Herman – whose mother sang and father played trumpet with the Lawrence Welk orchestra – had the sweet, sunshiny, nice-girl sound that advertisers of that era favored; it spoke to the whole family. Herman had done some singles in the '60s, including an out-of-character British soul hit on Columbia, "Hush Don't Cry." But she preferred the factory-like process of studio work, which allowed her to go home to her husband and baby at the end of the day.

TSU's tall, bearish basso, Len Dresslar, had flirted with a solo career in 1956 when he made a few singles for Mercury. But he too discovered the financial charms of jingle work. Dresslar earned over a million dollars from his claim to fame, the booming "Ho-Ho-Ho!" he intoned as the Jolly Green Giant, the animated TV pitchman for Green Giant canned and frozen vegetables.

The "snap! crackle! pop!" of Rice Krispies cereal had found a tuneful spokesman in Don Shelton, the cherubic tenor who had sung with the Hi-Lo's. Later he took his place alongside Dresslar in the J's with Jamie. Shelton went on to become a top studio trombonist and session singer in Los Angeles.

All these singers came together in 1967 to record "The Fool on the Hill" as a demo to get them commercial work. It more than achieved its goal. You'll hear that recording on the first
A Capella
album. As arranged by Puerling, this lighthearted Beatles song sounds like an eighteenth-century madrigal fused with '60s pop. The harmonies astonished Oscar Peterson, who heard the demo around1970 and excitedly passed it on to Hans Georg Brunner-Schwer, for whom he recorded. Brunner-Schwer was equally knocked out, and he offered The Singers Unlimited their own contract.

Once or twice a year, he flew them into MPS's headquarters: the ancient little town of Villingen inside the Schwarzvald (Black Forest), full of trees and ringing church bells. Between albums, Puerling spent almost all his time on the arrangements.
"
It took me at least a month to write each chart," he said recently from his home in Northern California, "because I'm not the consummate musician. I can't play the piano." He had to have all the parts in place before the sessions, because the budget allowed for only a week in the studio. The music was so tightly scripted, he said, that "if I changed one part I'd have to change all the chords." He would send his fellow singers the charts about a month in advance, but they were such quick studies, he explained, that they never touched the scores until the group convened in Germany.

On the Sunday morning before the first day of recording, they met in a park near their hotel and looked at the charts. The arrangements were so dense that they required clear, vibratoless voices or else they would sound muddy. But once recording began, said Puerling, "we had no problems at all. We did spend long days, sometimes seven-thirty in the morning until eight or nine at night. But we got it all in." He didn't remember that Bonnie Herman had referred to
A Capella II
's grueling sessions as "Blood on the Tracks"; or that the normally unflappable Herman, according to Brunner-Schwer, "once just fell apart because she couldn't go on anymore. Even the men were wobbly sometimes."

You'll hear no hint of that in the music. The first
A Capella
album, made in 1971, maintains a bright mood even in a song as painfully resigned as Joni Mitchell's "Both Sides Now." That track, like much of the album, throws a
spotlight on Herman. It begins with a hymnlike choral setting for her solo, then turns brisk and perky – a polyphonic romp through Mitchell's rather sophisticated chords. "It was a little tour de force," says Puerling of the performance. But he was never afraid to use the simpler choral style heard on "London By Night," a ballad that Frank Sinatra had sung on his album
Come Fly with Me
.

The Beatles' "Here There And Everywhere" had appeared on the flip side of Herman's single "Hush Don't Cry." She sings it again here with her winsome, naïve quality, with a lush but never intrusive harmonic background. "Lullaby" is based on a catchy tune that Puerling wrote "sort of fast for a commercial," he says. Herman's
la-la-las
evoke a little girl singing to herself as she walks home from school. "Emily" is Johnny Mandel's theme for the 1964 film drama
The Americanization of Emily
. "I did a few changes that he really liked, that he didn't expect," says Puerling.


A Capella II
, recorded in 1974, found him writing even more adventurously. Singing "Clair," Gilbert O'Sullivan's 1972 hit, the group provides its own chords in rhythmic stabs, along with some breezy whistling. Their reading of the Beatles' "Yesterday" is so somber that it almost sounds like a funeral dirge. Len Dresslar, who seldom soloed with the group, does so here in stentorian "Ol' Man River" fashion on "Lost in the Stars." The solemn arrangement of "April in Paris" focuses attention on the poignant lyric. "It makes me cry every time I hear it," says Lincoln Briney of the track. "It's so heartfelt and gorgeous." One of TSU's true moments of magic occurs at the end of "Indian Summer," when a rainbow of harmonic overtones shone out of the group's closing chords – a combination of Puerling's writing and Brunner-Schwer's engineering prowess. "The various sympathetic tones came up," says Puerling, "and when we got to the control room and he played it we just all died, because it sounded like a full organ."

The highlights of
A Capella III
include the circus sound they bring to "Anything Goes" – like the stop-again, start-again rhythm of a carousel. Don Shelton is given rare solo space on an American folk song, "Jeanie with the Light Brown Hair," while Len Dresslar brings a rumbling earthiness to a Negro spiritual, "Sometimes I Feel Like a Motherless Child."


Thirteen years after they made their last album, the Singers Unlimited reappeared to back Gloria Estefan on one track of her album
Christmas Through Your Eyes
. Their perfectionism made Estefan seem pale by comparison. There, and on every one of their MPS recordings, the Singers Unlimited remind us of the limitless possibilities of the human voice.