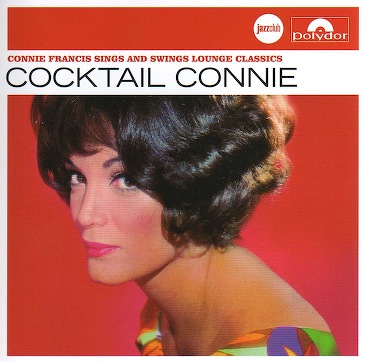 In 1959, a Jersey girl with a bouffant hairdo smilingly accepted a gold album from her record company. The inscription read, "To Connie Francis – who has sold more records than any other MGM artist in history." Then she was handed the keys to a gold Cadillac.

The former Concetta Rosa Maria Franconero from Newark had become the reigning Cinderella of jukebox pop thanks to her smash remake of a 1920s tearjerker, "Who's Sorry Now?" She sang it in a nasal, sobbing voice that captured the growing pains of millions of girls. Connie gave them such anthems of teenage angst as "Where the Boys Are" and "My Heart Has a Mind of Its Own," and instructed them on how to find true love in her 1962 book,
For Every Young Heart
.

But like the McGuire Sisters' lead singer Phyllis – a bubble-haired '50s sweetheart who hooked up with savage mobster Sam Giancana – Connie had dark days in store; both women came to symbolize the crash of a naïve era. In 1974, tabloids screamed the news that Connie had been raped and robbed in a Howard Johnson's Lodge, the budget dwelling where she'd stayed while singing at the Westbury Music Fair in Long Island, New York. She lost her voice and never fully regained it; she tried suicide and landed in mental hospitals. George, her brother, was shot dead in a mafia hit. She kept capsizing then having tearful comebacks. Cheers greeted her as she walked onstage with her shiny sequins and shoulder pads, hair teased as high as a wedding cake, and begged audiences to "Let Me Try Again."

Who besides Connie completists knew that Francis had recorded the classy tracks on this CD? Most of them were hidden away on flop LPs; Connie sold a lot more singles than albums. The title of this particular collection,
Cocktail Connie
, may denote lounge-lizard kitsch, revived for laughs. But lounge music, as the slick adult-contemporary sound of the '60s would later be known, was a generally smart genre. It employed finely-crafted songs and top arrangers; its listeners tended to have money in their pockets and a sense of style. Broadway, Brazil, and Hollywood are the main sources of the tunes on
Cocktail Connie
; the arrangers – Marty Paich, Don Costa, Claus Ogerman, Benny Golson – stood high in their field.

Connie fared nicely in their company. She sang effortlessly in tune, and even swung a little. Her style wasn't all tears; on the Tom Jones hit
It's Not Unusual
she sounds as breezy as a college girl out for a spin in her boyfriend's convertible. Her 1964 LP
A New Kind of Connie
reveals a lot more taste than she was known for. Connie had sought out Marty Paich, the cool, brainy West Coast jazz arranger of the '50s who had segued into pop with no loss of integrity. The singer had heard and loved his 1962 collaboration with Ray Charles,
Modern Sounds in Country and Western Music
. "The strings were so gorgeous that I called him and asked if he'd do an album with me," she explained.

Alongside Paich, she indeed sounded like a new Connie, fuller-throated and less nasal than before.
I've Got a Crush on New York Town
is a rare valentine to Manhattan; its authors, Sid Tepper and Roy Bennett, had written a string of now-forgotten '50s and '60s hits, including the Ames Brothers' "The Naughty Lady of Shady Lane." Peggy Lee and Victor Young wrote the wistful
Where Can I Go Without You?
, a modest hit in 1954. Connie was on familiar ground in
Where Did Everyone Go?
, a torchy saloon song written by Mack David and Jimmy Van Heusen and introduced by Nat King Cole.

Bossa nova was all the rage then, and Connie, who recorded in a wealth of languages and international styles, climbed aboard this one.
The Boy from Ipanema
had made bossa a worldwide sensation in 1964; the song fit neatly into her album
Connie Francis Sings All-Time International Hits
. Around that time, samba singer Jair Rodrigues scored his first Brazilian hit with "Deixa Isso pra Lá" (Let It Go), a half-spoken precursor to rap. It was translated partly into English for a Francis single,
Bossa Nova Hand Dance
. Game for anything, Connie chants the rap-style chorus in Portuguese. In 1966 she cut a single of
So Nice (Summer Samba)
, a gently pulsing reverie for a lover who would "take my hand and samba through life with me." It was co-written by Marcos Valle, the blond surfer dude of bossa composers.

The 1966 LP
Movie Greats of the 60's
displays a lot more taste than Connie was known for. "That's one of my favorite albums," she said thirty years later. "I was proud of that one." Its conductor, Larry Wilcox, had spent years ghostwriting musical-theater orchestrations for Ralph Burns, the great jazz and Broadway arranger.
Call Me Irresponsible
and
The Second Time Around
were Best Song nominees at the 1961 Oscars, but guest star Connie had opted to sing "Never on Sunday," which was also up for the award. She'd picked the winner, but not the future standard; she caught up with those other two songs on
Movie Greats
, where her singing brims with spirit.

Connie enjoys telling the story of the favor she did in the early '60s for a newspaper columnist. He asked her to meet with his son, who wrote songs. "Everyone's son is writing songs!" she said. Nevertheless she granted time to the young composer and his lyricist, who demonstrated their tunes for her. "These songs are excellent musically and artistically," she announced at the end. "But you'd have to hear them thirty or forty times before you'd begin to remember a melody or a lyric. I really don't think there's anything here that interests me, but let me encourage you to keep writing. You're on the right track." Their songs went to Dionne Warwick – and in 1968, well after the writers had become famous, Connie made a whole album of Burt Bacharach and Hal David. Her choices included
Walk on By
,
Do You Know the Way to San Jose?
, and a pairing of
This Girl's In Love with You
and
I Say a Little Prayer.
Claus Ogerman gave them all his trademark spun-sugar settings.

The fabled Summer of Love had just passed, and Connie's heyday had faded too; her last top-forty hit was years behind her. At this writing she's over seventy and still touring the world, singing many of the girlish hits that made her a star. But the Connie on this CD is worth remembering as well.