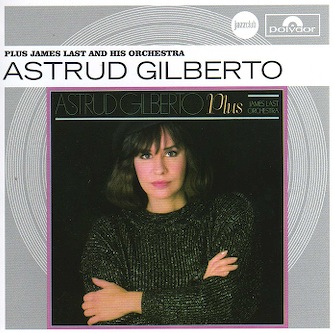 THE SAMBA
rhythms on this 1987 album happened not in Rio, but in Fort Lauderdale, Florida. The maestro was no Brazilian; he hailed from Bremen, Germany, and rose to fame as a conductor of big-band party music. The woman his orchestra accompanied is Brazil's second most famous exported songbird (after Carmen Miranda), but in her native land she's almost unknown.

Astrud Gilberto's career began as a fluke, and it lasted almost forty years. In 1963, when she recorded a guest vocal on Stan Getz's "The Girl from Ipanema," Astrud had scarcely sung in public. She was the shy young wife of João Gilberto, the pioneer interpreter of the bossa nova, a craze that had just swept America.

But the Getz single made a star out of Astrud, who became a tourist's fantasy of Rio. Her 1960s albums depict a brown-haired, doe-eyed nymph who could have washed up on the beach in a bikini. Her vacant glance was sexy in its innocence; her girlish murmur of a voice floated languidly over a bossa pulse, unanchored by rhythm or intellect. Delivering Portuguese or English, she never seemed to quite know what she was singing about. (Ironically, her father was a language professor from Bahia, and gave Astrud a bourgeois upbringing in Rio.)

But her style was undeniably seductive, and between 1964 and 1970, Verve immortalized it on eight LPs. Thereafter, the none-too-driven idol recorded only sporadically. She kept touring, though far from eagerly, according to one of her steady guitarists, Romero Lubambo. "She was never very comfortable on stage," he says. "But they wanted her, so she went."

When she made
Astrud Gilberto Plus James Last Orchestra
, the Girl from Ipanema was forty-seven and almost unchanged; if anything, experience had made her vocally more secure. She'd become a favorite in Germany, and after she appeared there on a TV special, Polydor issued a compilation of her old recordings. Its success inspired Verve to sign her for a new album, her first in a decade.

To sweeten its German appeal, the company teamed her with James Last. A poll-winning jazz bassist in the early '50s, Last had segued profitably into commercial pop. His smash album series,
Non-Stop Dancing
, launched in 1965, made him the king of slick orchestral Eurokitsch. In concert he stood in front of the band, clapping his hands as he swayed back and forth, grinning. Last churned out product for a hungry public, adding dance beats to everything from polkas to Bach. An estimated two-hundred albums bear his name.

Astrud never actually recorded with his orchestra; its contribution would be dubbed on in Hamburg. In Florida she laid down the basic tracks with her touring band. Marcelo Gilberto, her son with João, played bass and wrote arrangements. Paulo Jobim, son of the bossa's greatest composer, served as her guitarist and sometime backup singer; the Rio-born, New York-based Duduka da Fonseca was her drummer. Gilberto had an American pianist (Steve Herrick) and trombonist (David Sacks). And just before the Florida sessions, Gilberto hired Romero Lubambo, an accomplished guitarist from Rio who had moved to Manhattan.

"I must confess I didn't know very much about her," says Lubambo. "Astrud was not a name we used to hear a lot in Brazil. Outside of Brazil she was huge – Europe, Japan, the States." Gilberto sounded nothing like the daredevil singers he would later accompany, such as Dianne Reeves and Brazil's Leny Andrade. "What she sang came very naturally out of her heart," he says. A sometime songwriter, she dreamed up childlike tunes and sang them to Lubambo; he would notate and harmonize them for her. She certainly knew what she wanted. "Astrud would normally come with the ideas. She would say, I prefer it like this, more rock and roll, less bossa nova, faster, heavier, lighter."

For the Fort Lauderdale sessions, she tried to evoke a Rio-like atmosphere. "Astrud asked to record only after three," says Lubambo, "so we had a chance to go to the beach in the morning. It was a very fun time for us. Fort Lauderdale was great, the weather was nice. When everything is going well, you feel good. And I think you bring that feeling to the studio."

Last, who spent part of his time in Florida, was there to oversee things. But Astrud and her band simply recorded their existing arrangements for him to augment later. Aside from two synth-laden duets between her and James's son, singer-songwriter Ron Last, the maestro stayed respectfully clear of vulgarity. His brass section is tight and spare; the clouds of strings are never cloying.

The album contains some haunting rarities, notably "Moonrain" and "Saci," two Paulo Jobim originals with words by Ronaldo Bastos, one of Brazil's most poetic lyricists. An early art song by Jobim and Vinícius de Moraes, "Eu Não Existo Sem Você," gained a respectable English lyric from Astrud herself, and became "I'm Nothin' Without You." Astrud wrote the original samba, "Champagne and Caviar." She discussed it on the radio with Ron Della Chiesa, a genial DJ from Boston. "I really happen to love champagne and caviar," she said timidly, giggling. "It's a symbol of, like, a celebration. People usually drink champagne when they're cheerful. The whole idea is, like, a happy love."

Distributed in the U.S. as well as Europe,
Astrud Gilberto Plus James Last Orchestra
helped fuel the singer's next several years of performing. Ever casual about her recording career, she didn't release another CD until 1996. In 2001, the year she made her last album, she retired.

Astrud settled down in the area of Philadelphia, Pennsylvania, and occupied her time with painting and animal welfare efforts. Her disappearance from the stage only boosted her mystique, and the compilations keep coming. The movie
Down with Love
(2003) contains an electronically cobbled duet of her and Frank Sinatra singing "Fly Me to the Moon"; her voice was even sampled on a track by Black Eyed Peas. Meanwhile, her onetime cohort released a new DVD,
James Last at the Royal Albert Hall
, in 2008, the year before his eightieth birthday. Now comes this reissue, in which he and Gilberto brought out each other's best.