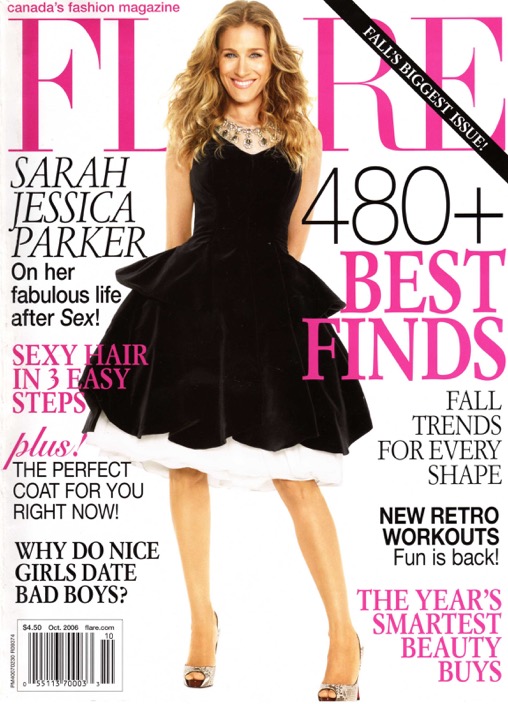 As Carrie Bradshaw on
Sex and the City
, Sarah Jessica Parker had the answers to everyone's problems except her own. The actress has brought a similar endearing befuddlement to almost every role she's played since 1979, when she took over the lead in the Broadway musical
Annie
; earlier this year she was at it again, swooning over Matthew McConaughey in the popcorn movie
Failure to Launch
. Now, at 41, Parker is at a crossroads. Can a star known mainly as a sitcom sweetheart, high-profile clotheshorse, and Boldface Name celebrity gain respect as a serious actress?

She's trying. Her upcoming film,
Spinning into Butter
, is a weighty look at modern-day racism; Parker plays a dean at a New England college who's forced to examine her own biases as she addresses a hate crime on campus. It's serious stuff for Parker, who's been busy touting Lovely, a perfume she launched last year. The website takes the form of a storybook; on each page she cavorts in low-cut Oscar de la Renta pink silk, flashing her legs and pouting like Marilyn Monroe. "I'd rather talk about a movie I did than what I wore," she says; clearly she revels in both.

It's a tricky balancing act, but Parker has surmounted big hurdles before. Her rise is inspiring
: She's
the sweet, simple girl from a poor Ohio family who at forty was named the richest woman in Manhattan by
New York
magazine (she denies it vehemently). She became a fashion and beauty icon with a face that other actresses would have altered – the nose is wide, the lips thin, the chin low and pointy with a wart.

Her so-called flaws have made her easy to identify with, and countless women do; no wonder so many
Sex and the City
fans mimicked Parker's fashion choices, her hair, her sexual frankness. With Madonna wielding sex as a
cold, predatory power trip, Parker restored its humanity; through her we could laugh at our own foibles in the sack.

The actress's offscreen feats are even more daunting, as she plays the role of working mom with superhuman ease. She and her husband of nine years, actor Matthew Broderick, are devoted to the hands-on parenting of James Wilke Broderick, their aristocratically-named four-year-old. Meanwhile Parker, who keeps herself in killer shape, is developing a new HBO series through her own production company.

The enduring interest in her, pro and con, is revealed in the bickering she inspires on Internet chat boards. Amid the pledges of love – "Sarah is awesome, sexy, good actress and great body" – are remarks of an edgier brand: "In public interviews she exudes this 'cutesy' persona that she's way too old for and people fall for it" … "I can't believe people actually find this 'Sarah Jessica Parker' attractive. Sexy? HOW CAN ANYONE SAY THAT?"

Certainly not too many people said it while she was growing up in Nelsonville, Ohio, outside Cleveland. "I didn't look like anybody else in my class; I wished I had," admitted Parker in a recent phone interview. "There were girls I admired who were the beautiful girls, and I fell short of that."

But she wasn't short on bulldog determination. Parker is quick to minimize her achievements. She brushes off her several seasons in the Metropolitan Opera children's chorus ("I did it because my best friend was in it, and we got to leave school and go rehearse at the Met"); her ballet training ("I didn't care to work very hard at that; I failed pretty miserably"); her grown-up emergence as a fashion icon (she's as "confounded as anybody" as to how it happened, and credits it mostly to
Sex and the City's
wardrobe designer, Patricia Fields); her self-imposed grueling schedule ("Well, you know, there are lots of people who work harder for far less"); and her "alleged" influence, as she puts it, on the young women of America ("I have responsibilities to myself and to my family; that, I think, is the best way to be a woman").

This last position is a far cry from the values espoused on
Sex and the City
, where four women groped for meaning in cutting-edge fashion and no-strings sex. Clothes were touted as the great transformer, the passport to coolness and control. The characters dropped designer names like mantras: Fendi, Prada, Dolce & Gabbana. The petite, neurotic Carrie tried to rise above the world in instep-killing Manolo Blahnik stiletto heels, the '90s answer to Joan Crawford's famous "fuck me" pumps.

Does polishing the package, as she has, change the being within? Parker offers no insights. "I love clothes, and I'm a paper doll," she explains. "I want to wear beautiful things." Her perfume's name, Lovely, and that of her production company, Pretty Matches, suggest a woman who glories in her self-transformation. Consider her fragrance's tagline: "Introducing a Fragrance as Lovely as the Woman Who Created It." Should we believe Parker's surprised laugh when that blurb is read to her? "I would
never
say it that way," she swears.

For a woman whose parents couldn't always afford to buy their eight children Christmas presents, the creation of a perfume with her name on it is "ridiculous, it's unbelievable. It's a dream I've had for twenty years. I remember the first bottle of fragrance I bought, I remember how I connected with it, but I didn't understand what went into it at all. But I knew that people made fragrances. And people had their names on fragrances."

She did a lot more than lend her name to this one: "Not only did I know what I wanted it to smell like, I knew what I wanted the bottle to look like, I knew the colors." She sat in the lab alongside the perfumers, laboring to bring it all to life. "Toward the end we were down to, like, the teeniest minutiae that we were working with, in trying to get it as perfect as possible."

If one doesn't hear her talking that way about acting, it's probably because she's seldom asked. That might change with the release this fall of
Spinning into Butter
, which will test her acting chops like never before. Parker co-produced the film, which is based on a 1999 play by Rebecca Gilman; Miranda Richardson and Beau Bridges also star. Its theme – that political correctness can clash with the bigotry implanted in most of us – struck a chord in Parker, who grew up in racially mixed surroundings. "I think the film is trying to say that we all project ideas on each other," she says, "and that those of us who are seemingly involved and educated still have prejudices."

Another bold departure for her is
Vacancy
, a drive-in-style scary movie, due next year. Its Hungarian director, Nimród Antal, scored three years ago with
Kontroll
, a chilling art-house hit set in the mazelike Budapest subway system.
Vacancy
tells of a young couple stranded at a far-off motel. Video cameras are taping their every move; unless they escape they'll be starring in a snuff film. Don't call it horror: "It's really a thriller," notes Parker, "and I think there's a great difference. It's much more character-driven."

Does she ever worry her that her eagle-eyed ambition might somehow damage her son? The question pierces her sunny poise. "I have a hard time imagining that we could let that happen," she says firmly. "You know, there's this focus on actors being somehow negligent parents. People who leave the house at 8AM and don't come home till 9PM – that's somehow more acceptable than actors. Matthew and I are very, very hyper-vigilant; I put James to bed almost every single night, I take him to school every day, I pick him up when I can. I'm really a present mother. And Matthew, with his schedule, is a really present father." Their Greenwich Village neighbors often see the couple out and about, taking James for a walk. Parker looks like any other mom: dressed down, un-made-up, with no dark glasses or goon in tow to ward off fans. Obviously she wants to give her son as normal a home life as possible.

The question remains: how can she humanly cram so much into a day? No big deal, she insists. "The movie work is very specific and finite. All the other stuff that's important to me, outside of my son – you find time. Am I tired a lot? Yeah. But if I can get two days in there of sleeping an extra hour, I feel like, all right, that'll get me through the week."

What she can't do these days, she says, is keep much of an eye on new designers or trends. "I work with somebody who's pretty good about that," she explains; otherwise she reads the
New York Times
style section and occasionally sees something she likes. Her fussy hairdos-de-jour of the past – teen-queen bangs and ring curls, Roseann Roseannadanna hanging frizz – have given way to a natural look: her hair now tumbles freely past her shoulders; her makeup seems casual. Off the job, she wouldn't pass for a star. "I can't get it together to look good every day; that's just not realistic for a working mother," she says.

Ever cautious about offending, she amends that statement: "You know, it might be for some, actually. But I just do the best I can."