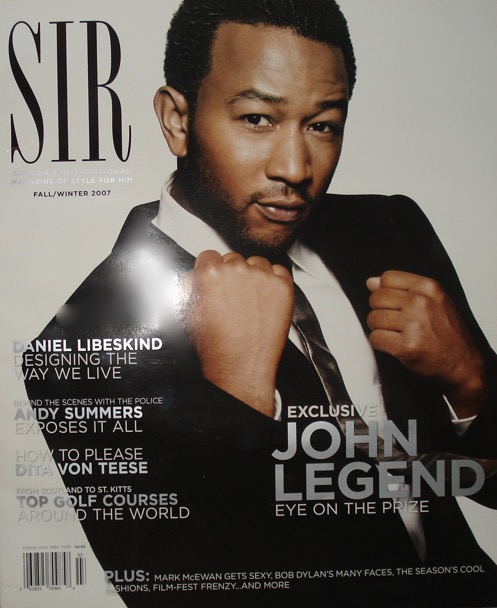 THE NAME sounds almost comically grandiose; needless to say it isn't real. But only someone as determined as John Legend would have had the nerve to adopt such a title while he was still unknown – and explain later that to call himself this "seemed like prophecy." But if the "legend" tag is premature, "success" is an understatement. Since his 2004 debut on Sony, this gospel-bred pop-soul troubadour, age 28, has won five Grammys and sold millions of albums. A breakthrough like that could make even a modest ego turn monstrous.

Legend, though, is a surprise. Disarmingly quiet and self-contained, he's got the sort of confidence that doesn't need to pull rank to flourish. Ann Ruckert, a veteran studio singer and vocal coach to the stars, met him when she worked as an associate producer on the Grammys. In that zoo of narcissism, Ruckert found Legend to be "totally cooperative and sweet. No diva shit. Never a hissy fit." Legend avoids such indulgences as an ass-kissing entourage and a weighty rider of demands. Polite to a fault, he'll burst into song if an interviewer asks. He seems so classy that he can cavort half-undressed with foxy babes in his videos and not appear smarmy.

The video for his first hit, "Ordinary People," says a lot about him. A study in minimalism, it shows Legend at a piano in a bare white room, singing about a painful family drama while three actors depict it. There's no catering to the A.D.D. of the music-video audience; instead of bombarding the viewer with bullet-fire cuts, "Ordinary People" was shot in a slower, more reflective manner. Until the last part, when a group of string players appear onscreen, the music is just John and his piano.

So far in his career, Legend's soft-sell, retro soul doesn't straddle any cutting edge. He sings rather like his idol Stevie Wonder, and doesn't deny it. But enough people are craving that feelgood sound to have made both his Sony CDs,
Get Lifted
and
Once Again
, go platinum. It didn't hurt, of course, to have the participation of Kanye West, the superstar rapper who helped groom him into Sony material.
But Legend has distinguished himself without really trying. At a time when almost every commercial pop singer from Mariah Carey to the whitest
American Idol
contender is singing in a bastardized gospel style – the kind that equates soul with added notes – Legend's anti-exhibitionism is rare. "I don't like to overembellish," he explained recently in Manhattan, where he lives. "As a songwriter, I'm trying to tell a story. I don't like to clutter it. And I don't like people who sing for the sake of being acrobatic – who are trying to show off how many notes they can squeeze into a bar of music. I don't think it's musical, I don't think it's tasteful, I don't think it's artistic. Especially as a writer, I don't like it when people take beautiful melodies and mangle them. That's why I never watch
American
Idol
." He laughs.

Having finished a year-long tour to promote
Once Again
, Legend is mostly staying home these days to work on his next album. He predicts a departure from the mellowness of the last two, but otherwise isn't sure how it will sound: "I've been writing stuff on my own, I'm gonna meet with other cowriters and producers, and see what we come up with. I don't like to overplan it, I just like to see where my creativity takes me."

His two focuses as a writer – relationships and social commentary – aren't likely to change. Nor is his composure. Unlike Kanye West – a larger-than-life explosion of star quality, talent, and arrogance – Legend isn't caustic. Angry as he feels about the way George Bush has misled the U.S. into Iraq, he's not shaking a fist. Instead he wrote "Coming Home," a ballad about a young soldier who aches with the hope that he might live to see his family again. "I was trying to connect to the human side of what war is," Legend explains. "Show Me" explores people's doubts about God in times of strife: "Life has to have a meaning/Show me the light, show me the way." Most of the time Legend deals with man-woman issues in terms that won't tax anyone's comprehension. "I can change for you/I'll give up all the places I used to go … I'll give up all those girls that I used to know…"

It's hard to imagine he ever caused that much trouble. From boyhood onward, he had one goal: "I wanted to be a star." It guided him through a childhood that would never have produced a gangsta rapper. Born John Stephens, he had what he calls a "lower-middle class" but very loving upbringing in the small town of Springfield, Ohio. Racism, he says, barely crossed his path; and crime wasn't a problem: "We got a little bit, but it definitely wasn't the 'hood." With four kids to support and not much money, his parents had to hold down several jobs at once. Still they paid much attention to their children: "They wanted us to have respect for each other, respect for authority, respect for God. I was a pretty good kid. I took a lot of pride in being a good student and a good musician – those were the things I focused on the most."

The centerpiece of his family life was the pentecostal church. His grandmother, who played organ there, taught him piano at four; at six he joined the choir. The serious child became a serious young man. In high school he was student council president, prom king, and salutatorian. College found him leading a respected a capella chorus.

For all his ambition, he didn't plunge into music full-time upon graduating. He spent three years working in a consulting firm, while devoting every spare minute to music – even as record companies rejected his demos. Gut confidence saw him through; so did wishful thinking – all poured into that fateful moment when he changed his last name from Stephens to Legend. He'll tell you he did so "with some reluctance"; that it was "a nickname that got out of hand," devised by friends. Clearly they saw a man on a mission.

So had Kanye West, whom he met through a musician roommate. The rapper had a crucial effect on his budding career. In 2003 West, who had just founded his own record label, G.O.O.D. Music, signed Legend to his first deal. Meanwhile the rapper helped him work on a demo to shop to major labels, while giving him valuable exposure as a guest on albums by such established artists as Jay-Z, Slum Village, and West himself. Meanwhile the rapper helped him work on a demo to shop to major labels, while giving him valuable exposure as a guest on albums by Alicia Keys, Black Eyed Peas, and other established artists.

Legend is still involved with West, both as a friend and an occasional collaborator. But now that he's no longer in need, he'd rather not be beholden to anyone. "I look at us more as peers than the press portrays it. I definitely have learned from him. I think we bring different things to the table on a musical level, so I never looked at him as a mentor." But have West's politics inspired him? "It's funny, 'cause I think I'm actually more political than him, when it comes to having a full political awareness. But he has kind of captured the public imagination with a couple of sound bytes."

One might expect Legend to come down hard on the violence of hiphop, with its misogyny and homophobia. But while he dispproves of both – "they're as wrong as racism" – Legend stands on the side of free speech. "People ask me if I'm against gangsta rap, and I'm not," he says. "I love it if it's well done. As long as people don't mistake it as the full portrayal of the black experience, then I think it's fine. I don't get too sanctimonious about the message. Some artists depict where they came from, they depict it pretty brutally, and they do it really well." He singles out The Notorious B.I.G., whom some have called the greatest rapper of all time. B.I.G.'s violent tales of his crime- and drug-ridden street life, dotted with references to niggahs and bitches, sum up everything that makes rap so controversial. So did his demise: he was shot dead in Beverly Hills in 1997. "He's one of my favorite artists of all time," says Legend. "Do I want to promote his message? No. But do I enjoy his music? Yes, quite a lot."

It certainly hasn't influenced his own social conscience. After visiting Ghana this year, Legend founded the Show Me Campaign, a fundraising effort aimed toward the relief of extreme poverty, particularly in Africa. In May he traveled through a still-ravaged New Orleans as part of a program sponsored by Tide, which offered laundry and home-rebuilding services to neglected victims.

After that experience, one would expect him to chime in with Kanye West's post-Katrina assertion that "George Bush doesn't care about black people." Reminded of the quote, Legend responds with typical thoughtfulness: "Well, I don't know what George Bush thinks about black people on a personal level, but I do know for a fact that he doesn't care about poor people, and he also has been complicit in allowing the Republican party to exploit race as another way to get votes. His policies have always neglected the poor in favor of the people who put him in office, which are rich folks and conservative Christians, and I think America is worse off for having him been president."

What Democratic girl wouldn't want him around? To all appearances, Legend is a catch: sensitive, introspective, well-mannered, and sharply dressed. He favors a simple, classic look – lots of white and black. For a while he had an arrangement with Valentino, who provided his professional wardrobe. Asked if he was interested in clothes, Legend laughed and said, "Yes – I wear them every day! I'm not unduly interested in them, but I like to look nice. It's an important enough part of the presentation of my music that I take enough time to make sure it's right."

He's sure got the money to buy whatever he wants. "As long as I keep up a certain pace of creativity and continue to perform well and all that, then I'll probably be comfortable the rest of my life. Also, it helps me take care of my family. It's nice to be able to give your parents things they never had."

But the good son is still unmarried. Year-long tours aren't usually the path to romantic bliss. "Yeah, my girlfriends have not been so pleased," he says with a chuckle. "The amount of time you spend away from someone you care about is very difficult. There's no way around it. And whenever you're in the public eye, there are all kinds of attacks on your relationship. The press is kind of scrutinizing the girl – is she cute enough, is she this enough, is she that enough. And them knowing that other women want me and are gonna make moves to have me. They hear enough stories about cheating to think that I may be prone to that!"

Their suspicions couldn't have been eased by a bootleg concert clip on YouTube entitled "John Gets a Boner." It resulted from a moment when Legend, in revealing white trousers, invited a female fan onstage for a slow dance. Over 40,000 hits later, that video has spread the word that Mr. Legend is a horny boy. He laughs it off. "It was surprising to me at first, because I really didn't think about it when it was happening. The reaction that people had was kind of funny. No," he agrees, "it wasn't bad publicity at all!"

Also popular on the internet is a rumor that he's "working on" Michael Jackson's next album. In truth, Legend wrote one song for him, and at this writing he doesn't know if Jackson will use it. "I'm not too worried about that," he claims. "I've been working on so many other things it's not on the top of my mind. It'd be cool if it works out, though." He and Jackson did meet twice, and exchanged small talk. Intimidating? "No, it wasn't, actually," says Legend. "I don't really get nervous around just about anybody."

Maybe he felt a twinge or two on June 28, 2005. That night, at the BET Awards, he and Stevie Wonder sat at matching grand pianos on an otherwise empty stage and performed intertwining versions of "My Cherie Amour" and "Ordinary People." Mr. Cool couldn't brush off that honor, which amounted to a christening from Caesar. Whether or not this Legend ever becomes one, he'll never be one of the common folk again.