Dec. 28-Jan. 3, 1995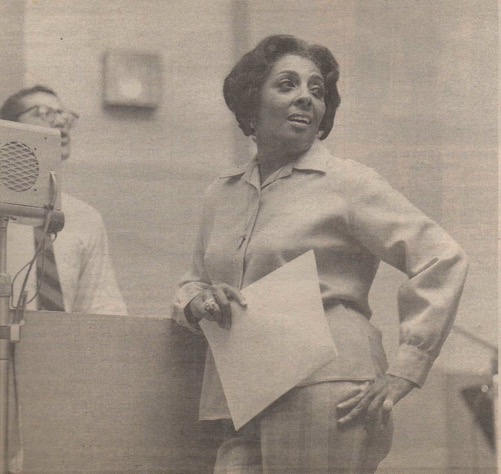 THE WOMAN WE LOVED

Of Sass, Class, and Carmen McRae

"I AM
the oldest person in the world!" growled a 74-year-old Carmen McRae in 1992, as a makeup woman prepared her for an on-camera interview in her Beverly Hills home. "The other day I was watching TV and the pope came on, and they said he was 69. I thought, shit - even the fucking
pope
is younger than me!"

Respiratory ills had halted the great jazz singer's career 18 months earlier, but only death - which took her on November 10 of this year - could curb her feistiness. As she summoned her past for a still unfinished documentary that I was asked to cowrite, I noticed how much her speech recalled her singing: salty, smart, aimed straight between the eyes. McRae had sung romantic songs since 1939, but she never took love at face value, in her music or her life. Even tunes as clear-cut as "The Man I Love" or "As Time Goes By" had a skeptical, probing edge when she sang them. Among jazz vocalists, she was unique: early all her improvisations pointed straight to the words.

She did share one important trait with her peers: a life that had become one long travelogue, from California to Manhattan to Japan, from nightclub to recording studio. In 1983 she made the Blue Note her New York base, singing there twice a year throughout the '80s. Seated on a stool in one of her robelike gowns, she looked like a jazz priestess: her majestic, high-cheekboned face made more exotic by a West Indian cast; her short Afro dyed several shades; big, dark eyes sizing up the whole room in one glance.

Long before her final engagement in May 1991, emphysema had made her breathing labored. But her musicality and dramatic power saw her through, not to mention her ability to have fun with herself. Opening night included "Getting Some Fun Out of Life," a swinging Billie Holiday trifle that she loved to sing. In the second chorus she upped her tough-girl attitude, declaring in a mock-bullying tone: "When we wanna sing, we sing, and when we wanna dance -
we dance!
" I laughed out loud, and she threw me a quick, devilish smile. McRae wasn't too free with those smiles, and when she turned one on it could give you a jolt.

As usual, though, ballads ruled the night. She seemed drawn to songs in which love was full of conflict and doubt: "But Beautiful," "My Foolish Heart," "Imagination." One phrase would come out tender and yearning, the next would be etched in acid, as if her own vulnerability scared her. When she sang Paul Williams's "With One More Look at You," about a love strong enough to "overcome the anger that I've learned to know," it gave the sense of a battle won.

Hours after the last show of that run, a bronchitis attack drove her into intensive care. Suddenly, Carmen McRae's career was over. For the next three and a half years she lay in her bedroom watching TV, by all reports still drinking and smoking. A young Haitian woman looked after the house; a few friends - her manager Larry Clothier, her traveling companion Shirley Thomas - came by as often as she'd let them. Trips downstairs, like the one for our documentary, were rare.

The show's producer, Gene Davis, the crew, and myself arrived that day to the news that McRae didn't feel too well and would join us as soon as she could. A half-hour later, an escalator chair carried her slowly down the steps. She looked drained of color and sounded weak. But as the makeup artist went to work, the Carmen we knew reappeared before our eyes.

And did she talk! Born in 1918, she told Davis, McRae came up in Harlem "when Harlem was a paradise." She recounted her early gig as an Atlantic City chorus girl; her reluctant debut as a pianist-singer in 1948; evenings spent with Dizzy, Bird, Monk, and especially her idol Billie Holiday, "in the days when bebop was becoming
heavy
," she said. "Those people were my friends. We hung out, got high together." (No hard stuff for her, though.) She eulogized Lady and Sarah, dissed Nancy Wilson and mel Tormé, spoke frankly of her marriage to drummer Kenny Clarke, whom she didn't love.

Although McRae's true sexuality seemed pretty obvious, no interviewer dared bring it up. Apparently she never came to terms with it, even going out of her way to assert her straightness onstage. But if a writer asked about her notoriously (and sometimes cruelly) barbed tongue, he got a sample. "That's a lot of bullshit," she told James T. Jones IV of
Down Beat
. "Any time you speak your mind, you're tough as nails. I've never punched anybody in the mouth. I've never pushed anybody down the stairs or shot anybody. Now, how much can you do with just words?"

Plenty, if you were Carmen McRae. Her recordings prove it. "Autumn Nocturne," a ballad she cut in 1953 for the Stardust label, captures a young, creamy-voiced McRae at that time an intermission pianist in a strip joint. Even then she had immaculate diction and control, elegant phrasing, and a deep instinct for drama—qualities she explored in a series of albums for Decca and Kapp.

By the mid '60s, when she made her outstanding orchestral albums for Mainstream,
Haven't We Met
and
Second to None
(anthologized on the Sony CD
The Ultimate
Carmen McRae
), her familiar reediness had set in, bringing with it endless color and nuance. Who else could make a swingfest out of "Life Is Just a Bowl of Cherries" while giving every phrase a bitingly sardonic tinge? For her, "Blame It on My Youth" was no sob story but an unsparing self-examination, shared without bitterness. Her profound musicianship, rooted at the piano, gave her work much of its authority. She heard all the possibilities in a chord, then chose the one that best enhanced the story.

If something were bugging her that day, you'd hear what writer Joel E. Siegel called "a seasoned pro coasting along on semi-automatic pilot." But for all the unevenness of her later records, most of the available titles are worth owning. Try
Alive!,
a Sony reissue of two 1965 Village Gate performances, and
The Great American
Songbook
, a 1971 live date on Atlantic, as well as two Decca and Kapp collections,
Here
To Stay
and
Sings Great American Songwriters
. Her last two albums, issued in the '90s, are less satisfying:
Carmen Sings Monk
, which weds great music to inane lyrics; and
Sarah—Dedicated to You,
a strangely uninspired salute to her friend and early influence.

At the end of that November day in Beverly Hills, the biggest question remained: could she still do it? Before turning off the camera, Gene Davis asked her for a song. "I don't even know if I can sing anymore," she said. But without further prodding she sat at the piano and gave us "Ain't Misbehavin'." Despite some rustiness, the voice was unmistakable Carmen McRae, almost as gutsy and acerbic as ever, and it still gave me goosebumps. At the end we cheered, telling her how good she sounded. "Aw, I sound like shit," she muttered, turning her face away.

A few minutes later I kissed her goodbye. When I told her how much it meant to me to be part of this documentary, she answered: "Well, I'm glad you decided to do it before I'm dead."

We tried, Carmen. Singer Carol Sloane, her longtime buddy is planning another loving tribute:
The Songs Carmen Sang
, her next Concord CD. McRae's own records will always be there as a reminder not to fall in love too easily. She never claimed that doing so resulted in any less pain, but she did make a convincing argument that the hard truth is the only truth to live by.