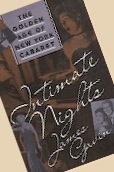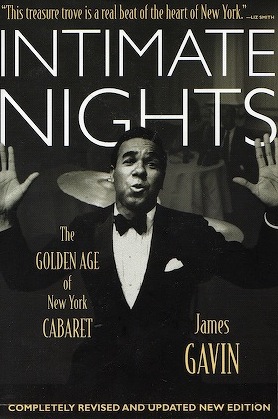 (Originally published by Grove Weidenfeld; republished in a revised edition by Back Stage Books)

"Wild and wistful … a remarkably informed, insightful, definitive look at Manhattan nightlife." (Gerald Nachman,
San Francisco Chronicle
)

"Vividly reported … etched in acid." (John S. Wilson,
New York Times
)
"An absolute joy, the kind of book you urge on your friends." (Lee Adams,
TheaterWeek
)
JACKET COPY:
Before Beatlemania swept the country, Manhattan nightlife was a cabaret, and New York City was the land of discovery. Every few blocks stood a glamorously named boîte – the Blue Angel, Le Ruban Bleu, the Bon Soir, Café Society Downtown, RSVP – where showbiz history was in progress. "We never called them cabarets then," said singer-comedienne Dorothy Loudon. "We called them saloons. Toilets. Dives." Ed Sullivan, Broadway producer David Merrick, and countless talent scouts raided these clubs for fledgling talent, and look who they found: Barbra Streisand, Woody Allen, Carol Burnett, Doris Day, Eartha Kitt, Harry Belafonte, Lena Horne, Lenny Bruce, Mike Nichols and Elaine May, Pearl Bailey, Lily Tomlin, Phyllis Diller, Joan Rivers, Beatrice Arthur, Barbara Cook, Johnny Mathis, Liberace, Jerry Herman, Dick Cavett.

......
That whole wild age comes back to life in
Intimate Nights: The Golden Age of New York Cabaret
, first published in 1991 and now extensively revised and updated. James Gavin took traces an era that stretches from the days of corrosive speakeasy gin (and a singer, Helen Morgan, who poured out her heart while perched on the piano) through the genre's '50s heyday, when the field's legends – Mabel Mercer, Bobby Short, Julie Wilson, Sylvia Syms, Blossom Dearie – mesmerized audiences in cozy nightspots. Cabaret's wacky renaissance of the '70s is here too: a time when Bette Midler cavorted at a gay bathhouse and Peter Allen bumped and shimmied at Reno Sweeney. More recently, Harry Connick Jr., Mira Sorvino, and Nellie McKay have passed through this still-vital field.

......
It's all here in
Intimate Nights
, which Louis Botto of
Playbill
called "diligently researched," "glittering," and "outrageous."
Intimate Nights
won the 1992 Deems Taylor Award for excellence in music journalism.

EXCERPT
BY THE the mid-'50s, Manhattan's late-night hideaways were getting so much attention that dozens of would-be impresarios were inspired to create their own little nooks. As Ron Diamond wrote in his liner notes for a Portia Nelson album: "In every great cosmopolitan city – be it San Francisco or Paris, New York or London – there are night spots where the frantic day can be brought to a restorative end with good food, drinks to hold hands over, and a little night music … the central ingredient is the after-dark poetry of musicians with quiet pianos, singers with persuasive but uninsistent voices, songs that somehow become as personal as memories.

......
One such haven was the Left Bank, opened at 309 West 50th Street by Richard Kollmar, husband of Dorothy Kilgallen. Best known for a morning radio show,
Breakfast with Dorothy and Dick,
in which he and Kilgallen chatted about their fashionable nights on the town, Kollmar also acted, produced, and ran a small art gallery. He decorated the Left Bank with paintings from his collection and with models of human hands, one of his fetishes. His arty lounge for jazz and cocktails boasted a slick vocal quartet led by the handsome John LaSalle; one could also count on some surprise guest appearances, as
Cue
's Tim Taylor reported in 1957: "Each banquette in the softly-lit room is equipped with a plug into which a table microphone can be set at a moment's notice. The night I dropped in, Judy Holliday obliged with a tune from her hit musical,
Bells Are Ringing.
It made my steak sandwich taste just a little bit better.

......
To all small-town folk who itched for that sort of excitement, Manhattan gave off a lot of siren calls. On October 8, 1959, CBS-TV aired
The Big Party
, a ninety-minute prime-time special about the kind of gathering that chic New Yorkers supposedly attended all the time: a soiree thrown by Rock Hudson at the Waldorf, with Sammy Davis, Jr. tap-dancing on the piano, Broadway's Lisa Kirk doing production numbers from her hit act at the Plaza, and Esther Williams trading bitchy repartee with Tallulah Bankhead.

......
Such a scene might not have appealed to millions, but its allure was undeniable, particularly for gays. "People were telling us we were inferior, and we wanted to feel superior," said author Richard Lamparski. "Everyone was trying to pretend they were sophisticated. That's ridiculous, in a way. But at the same time, it meant you had to read, to be culturally aware. You could only pretend so far, or you'd get caught. That you could understand Mabel Mercer's music, or Bobby Short's – that was all to the good."

......
Short figured memorably in the
New Yorker
's front pages, which detailed the city's boundless "Goings-On About Town." Rogers Whitaker, the magazine's nightlife reporter, had this to say about the emerging prince of the East Side piano bars: "Bobby Short, a nightingale who has sung in Berkeley Square, has a brand of heigh-ho that's impulsive, upbeat, and alert."

......
The cover of Short's 1959 album
Bobby Short on the East Side
, recorded in the bar of the Weylin Hotel, was its own glamorous invitation to New York. It showed him on Park Avenue, striking a dance step alongside a Rolls Royce with a white chauffeur. Both had been loaned by Ahmet Ertegun, the president of his record company, Atlantic. Inside the Weylin or any other bar he played, Short started a party every time he sat at the piano. Shoulders shimmying and head thrown back, he made life seem like an endless whirl of jaunts to the Riviera, Havana, and Rio; of nights spent "slumming on Park Avenue," swilling champagne and flirting blithely with romance. With a French-style clipped vibrato and the occasional rolled r's of Mabel Mercer, the Illinois-born entertainer was a total self-creation. But the society following he cultivated, and anyone else who wanted to feel sophisticated for a night, hung on his every word.

......
A child performer in vaudeville, Short had spent years entertaining in Los Angeles cafés. But the
New Yorker
, which he read faithfully, had made him yearn "to be part of that whole East Side milieu," as he later said. Rough as it was to sing for his supper in noisy rooms where the cigarette smoke invaded every fiber of his tuxedo, Short knew he was where he belonged.

......
"It
was
glamorous, truly," he said. "There was so much nightlife, so many places to go. New York was a late place back in those days. After working in a club you never went to bed; you went straight to P.J. Clarke's. There were so many performers around town, and great
personages
that you'd heard about for years and years. We had columnists back in those days – Dorothy Kilgallen, Jack O'Brian. We also had what was known as High Society." Before long he knew many of the composers whose songs he'd sung for years. Short and Harold Arlen used the same barbershop at the Lombardy Hotel; Vernon Duke became his close friend and Cole Porter an acquaintance. It wasn't uncommon to see those giants at ringside, grinning up at Short.

......
"Bobby was a pistol in those days – so cute, so full of energy," said his longtime pal and peer, Charles Cochran. "He had more pizzazz than anyone working the lounges. There was a drum roll, he would be introduced, and he would run on and play a lot of silly chords, a pounding kind of thing to get the attention of the room. I think usually he worked his own lights. These were rooms that were not anything special, but he was clever enough to do a real show in them."

......
One afternoon in 1956, Irvin Arthur, a fledgling talent agent and young married man, went combing the streets of midtown, looking for clubs in which he might be able to book piano players. He walked into the elegantly named RSVP, a forty-four-seat hole-in-the-wall that faced the Blue Angel. Inside he saw an inelegant sight. At the end of the bar stood the owner, Murray Shapiro. "He was three sheets to the wind," said Arthur. "Two guys were standing in front of him and they were pummeling him, hitting in the stomach. He wasn't paying his loans from the shylocks. He was crying: 'I'll pay you, I'll pay you!' They kept hitting him.

......
"I slipped out and went to a phone. I called this guy I knew, a loan shark, and said, 'What's the story with this joint, the RSVP?' He said, 'Whaddya ya wanna know for?' I said, 'I kinda like that club.' 'He said, 'You have seventeen-hundred and fifty dollars?' I said, 'Yeah.' He said, 'OK, Irvin, you own a club.'

......
For the next four years, Arthur got little sleep. "All I knew is that Mabel Mercer was looking for a gig," he explained almost fifty years later. "I thought this would be a good room for her."

......
He called his wife, Sandy, who was employed at a woodworking shop. "How do we get $1,750?" he asked.

......
The young couple managed to secure a bank loan. Suddenly, without knowing a thing about the business, they had acquired a saloon that was small in size but big on headaches. The liquor license cost thousands. Then there were the electric bills Shapiro had left unpaid. Sandy learned of the latter when she showed up for her first day at RSVP and found the door padlocked.

......
"I went to a telephone booth and called Irv and said, 'What the hell are you doing to me?' I was so angry at him for getting us involved in this." She stormed back to RSVP and yanked the padlock so hard she broke it off. "I walked in and called him back. I said, 'OK, I'm in here.' We opened that night by candlelight."

......
Irvin called Mercer and offered her a job. Soon there she was, seated in her grande-dame chair on a riser near the end of the bar. Sam Hamilton played the upright piano beside her. RSVP was no bigger than many New York living rooms, and much dingier, but Mercer made it a salon for the musical aristocrats who loved her: Leontyne Price, Peggy Lee, Frank Sinatra. Such clients were well equipped to pay a cover charge, but the Arthurs charged their customers none, only a minimum.

......
The couple weren't as naïve as they seemed. With dogged determination, they found ways to keep RSVP afloat. To liven up cocktail hour, they made the place a gay bar from five to eight – a brave move, given the police harassment such enterprises suffered. Sandy invited all the gay woodworking designers she knew, and on Sunday, the club's dark night, she and Irvin promoted it along the "Bird Circuit": the gay bars and restaurants with such coded names as the Blue Parrot, the Yellow Cockatoo, the Golden Pheasant, and the Swan. With Mercer enthroned there by night, RSVP had a more respectable air, but Irvin was surprised at how rowdy happy hour could get as the liquor flowed: "There was a lot of groping going on," he said.

......
"About every two months," recalled Sandy, "I'd say, 'OK, today's the day, I'll make a scene.' I'd pick on somebody I didn't like and say, 'You –
get out
!' I knew we were gonna get in trouble if I didn't do it."

......
The police still demanded constant payoffs. "I'd go home," she said, "and the bartender or somebody would call and say, 'Treasury's here.' That meant the cops were there turning the bottles over and saying, 'This isn't really Dewer's.' Which meant you had to give them five bucks, ten bucks, whatever." Sometimes a policeman went into the bathroom, confiscated the sign that reminded employees to wash their hands, claimed it was never there, and demanded payment of a fine. "At Christmas," said Irvin, "you'd go to the station, see the captain, see the lieutenant, wish them a Merry Christmas, and give them cash."

......
There was plenty of fun to offset the grief. It wasn't unusual for Irvin, who still worked by day as an agent, to wake up to a ringing phone in the middle of the night. The caller was Sandy, telling him to get dressed and come to the RSVP.

......
"What for? Is there a problem?"

......
"No. Just come down."

......
He arrived once to find Martha Raye and some of her famous friends there with Mercer, all of them singing and laughing. The Arthurs locked the door and, because liquor sales were illegal after hours, they gave away champagne, further cutting into profits. Sandy would always regret throwing away the cocktail napkins that another customer, Salvador Dali, had covered with sketches; had she kept them to sell in future years, she and her husband would have repaid their initial investment many times over. Was the venture ever profitable? "No," said Irvin. "Never."

......
It finally closed in 1960. "The building was coming down, thank God," said Sandy. She and Irvin took away the joyful memory of hosting Mabel Mercer; of luring Mae Barnes from the Bon Soir to play several engagements; and of presenting a young cocktail pianist and aspiring theater composer, Jerry Herman. Running the RSVP, said Irvin, "was the right thing to do at that point in our lives. We never wanted to do it again, but we sure had a great time."

MORE REVIEWS


"The definitive book about the golden age of cabaret." (Alvin Klein,
New York Times
)

"A richly atmospheric history of Manhattan nightlife." (Stephen Holden,
New York Times
)
"Via witty interviews and meticulous research, [Gavin] conjures long-forgotten, big-personality impresarios, singers, comedians and drag queens so vividly you can almost taste their sweat and tears." (Raven Snook,
Time Out New York
)
"Lovers of cabaret will be grateful for every tidbit he offers." (Jonathan Yardley,
Washington Post
)
"A fascinating, often witty, and always entertaining history of cabaret ... a book no one interested in cabaret should fail to read." (Barbara Leavy,
Cabaret Scenes
)
"An exhaustive and deliciously detailed history ... There is simply no more authoritative source about who did what, where." (David Noh,
Gay City News
)
"A richly descriptive portrait of a bygone era." (Hilton Als,
Interview
)
"Doubly compelling for its depth and humor." (Paul Colford,
New York Newsday
)
"An evocative paean to a beautiful but vanished era." (
Newark Star-Ledger
)

"Fascinating and compelling ... It's a highly diverting story, which Gavin keeps moving siwftly by quoting inside stories from those who were on the scene." (Max Preeo,
Show Music
)
"Entertaining and touching." (Nancy Nicholas,
Mirabella
)
"The book has a dishy anecdote on almost every page." (Jacques le Sourd,
Gannett Westchester Newspapers
)
"It paints the ambiance of legendary clubs like Le Ruban Bleu, the Bon Soir and the Blue Angel so strongly you'll feel like you are there." (John F. Karr,
Bay Area Reporter
)



BONUS FUN