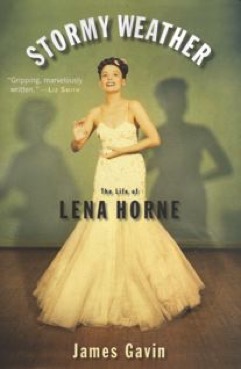 (published by Atria Books/Simon & Schuster)


ONE OF OPRAH'S TOP 25 SUMMER READS (2009)

TURNER CLASSIC MOVIES' AUGUST 2009 BOOK OF THE MONTH


(excerpts at
O, the Oprah Magazine
and
vanityfair.com
)
FROM THE REVIEWS ...
"Talk about something that keeps you turning pages to the very last -- and wishing there was more! [It]
may just be one of the best biographies about show business, race, love, sex, and music ever written
." -Liz Smith

"
Definitive
." -
Vanity Fair


"A
thorough and fluent
biography ... a life so rich in ups and downs as to make page after page
eventful
and
suspenseful
." -John Simon,
New York Times Book Review


"
Definitive
... In Gavin's capable hands, Lena Horne's story is both uniquely her own and an integral part of a larger cultural journey."
-David Wiegand,
San Francisco Chronicle


"A
superb
portrait that has the ring of truth on every page." -Robert Croan,
Pittsburgh Post-Gazette


"
Sympathetic and tough
." -Hilton Als,
The New Yorker


"Lena Horne [is] brought to
vivid
life by James Gavin ... Gavin illuminates both the outside and the inside of his legendary subject."
-Melissa Anderson,
New York Newsday


"A
compelling
bio ... Gavin presents the African-American icon in complex, human terms." -Harry Haun,
Playbill


"A
fascinating
study of a complicated woman and the complicated times that shaped her." -Elysa Gardner,
USA Today


"What's strong in this biography is the sweep of history -- we really sense what was going on in our country not only about race but about movies, politics and culture." -Patricia Zohn,
Huffington Post


"The
must-read
book for this summer ... easily the
definitive
book on Lena Horne." -David Hurst,
Next

"Stormy Weather
introduces readers to a Lena Horne they might never have known if not for Gavin's
riveting
biography." -Rita Charleston,
Philadelphia Tribune

"
Meticulous
ly detailed ... Gavin [is] a
consummate
researcher." -Raven Snook,
Time Out New York


"
Riveting, superbly researched
... an
extraordinary
biography." -Tavo Amador,
Bay Area Reporter


"At once
mesmerizing
and tragic, a
masterful
exploration of an international cultural icon." -Teri Shiel,
Library Journal


"
Mesmerizing
, landmark biography ...
definitive
." -David Noh,
Gay City News


"
Riveting drama
... witty, thorough, informative and, best of all, a helluva lot of
fun
to read." --
Alan W. Petrucelli's Entertainment Report