TIME OUT NEW YORK
Aug. 30-Sep. 5, 2007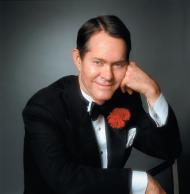 Top live shows

STEVE ROSS: GOOD THING GOING


The Oak Room at the Algonquin Hotel; Tue 4–Sep 15

Steve Ross got his start back in the days when Donna Summer reigned and hordes groveled at the doorway of Studio 54. But he was an anachronism: a tuxedoed, reedy-voiced Cole Porter look-alike who conjured a vanished world of cultivated manners, bons mots and deftly witty lyrics. Seated at the piano, he sang Porter, Gershwin and Berlin with high-flown polish, while revealing little.

Lately, however, he's been letting down his guard. Ross now uses his superb comic timing to poke fun at himself and the era he adores; meanwhile, a newfound wistfulness has given his work a moving third dimension. Previous shows found him probing beneath the brittle glitz of Coward and Kander and Ebb. Now, to kick off the Oak Room's season, he'll delve into Stephen Sondheim, another Broadway wizard who proves that virtuosity and heart can be uneasy bedmates. Count on Ross to unite them.