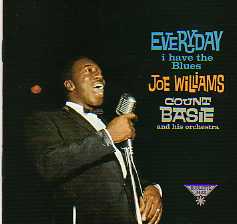 FOR JOE
Williams, Christmas of 1954 was truly a time to rejoice: On that day he came aboard the swinging-est band in the land, the Count Basie orchestra, and began his climb to stardom. The title song of their 1959 album
Every Day I Have the Blues
is
a diary of woes, but Basie and Williams turn it into a shout of celebration. Their kind of blues is high on swing and free of victimization; it leaves no doubt that the men who deliver it are winners.

Williams became much more than Basie's boy singer; for seven years he made himself so indispensable that the maestro dubbed him his "Number-One Son." A big-city blues man, Williams was a tuxedoed image of suavity and class. But his voice – a virile, burnished baritone – had all the devilish swagger of a ladykiller who knows he's about to score. Williams loved to spice up his smooth delivery with guttural sounds, like his yodeling wail on
Everyday I Have the Blues
: "No-o-o-o-o-o-body loves me!" He knew all the lowdown grunts and growls of his blues-shouting forefathers, notably Jimmy Rushing, his predecessor with Basie. But as Duke Ellington once said, Williams's "perfect enunciation of the words gave the blues a new dimension. All the accents were in the right places and on the right words."

With Williams out front, the Basie band reached a new level of prestige. They were the first black act to play the snobbish Empire Room of New York's Waldorf-Astoria Hotel, where Lena Horne would later triumph. They joined Fred Astaire on his 1960 TV special,
Astaire Time
. Basie and Williams were virtually synonymous with Birdland, and their records on Verve and Roulette sold impressively.

Not bad for a singer who'd spent years living in poverty. Born Joseph Goreed in 1918, Williams had left his hometown of Cordele, Georgia at three and moved to Chicago with his mother. For decades he held survival jobs – janitor, dishwasher, door-to-door cosmetics salesman – while struggling to establish himself musically. He was somewhat familiar locally in 1950 when Count Basie blew into Chicago. Basie, too, was having low times; after years of leading a top band he'd hit a financial slump, and was forced to downsize to a sextet. Williams sang with that group for ten weeks, then resumed working odd jobs. But Basie didn't forget him. He revived his orchestra in 1952, and as soon as budget allowed he hired Williams.

Like every Basie band, the one on this CD teems with fine soloists: Benny Powell, Frank Foster, Eddie "Lockjaw" Davis, Freddie Green, Frank Wess. But under Basie's direction, they thought as one – the result, in part, of his witty piano playing, in which a few choice notes set a blueprint for the whole group. Its arrangers (Foster, Thad Jones, Ernie Wilkins) knew how to capture the brassy, vibrant sound, the sly humor and relentless swing that had made Basie famous.

The material here is a diary of urban blues, written by many of its masters.
Confessin' the Blues
was the trademark of a big band led by Jay McShann, the blues and swing pianist and songwriter. Basie's spare opening solo suggests an array of piano styles – stride, boogie-woogie, barrelhouse. Jesse Stone wrote the raunchy
Shake, Rattle and Roll
for Big Joe Turner, who made it a number-one R&B hit in 1954. But not until it was "cleaned up" and covered by a white act – Bill Haley and the Comets – did it become a major smash. The Basie-Williams version isn't as dirty as Turner's, but the frisky spirit is still there in this high-speed chase of a straying woman.

Turner penned
Cherry Red
with a kingpin of boogie-woogie piano, Pete Johnson; the version here shows off Frank Foster, Basie's tenor-sax star.
It's a Low Down Dirty Shame
features the slurring wail of trombonist Benny Powell. Williams wrote the words for
Five O'Clock in the Morning
, a slow, funky evocation of Manhattan before dawn and the enveloping loneliness it can bring.

Williams would leave Basie in 1961 to forge a full-time solo career. Long before he died in 1999 he had gained universal respect as one of the true gentlemen of jazz, and as one its nonpareil artists. The same held true for Basie; fittingly, they earned adjacent stars on the Hollywood Walk of Fame.