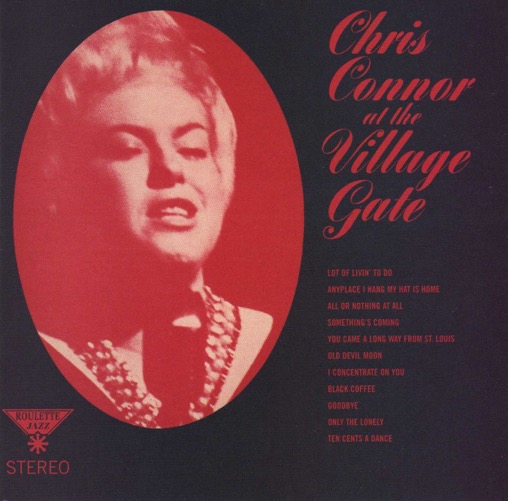 Chris Connor at the Village Gate
is what jazz singing can be at its most exciting: a tightrope walk by a pro who isn't afraid to fall. But this album, made in 1963 for the short-lived FM label, suffered from poor distribution and a changing marketplace, and few people heard it. Now, in its first American reissue, is the last recording in this important singer's early heyday: a phase that spanned several classic albums on Bethlehem (1953-1955) and Atlantic (1956-1962).

It all sprang out of a four-month stint that Connor, a Kansas City native, had worked with the Stan Kenton orchestra in 1953. She became the third ex-Kenton singer (after Anita O'Day and June Christy) in the so-called "Cool School" of female jazz vocalists. They were known for their frosty tones, emotional distance, and aloofness from things that girl singers were supposed to hold sacred, including girlish allure and precise pitch.

But by 1963, Connor's work was hot, not cool. Listen to
Anyplace I Hang My Hat Is Home
and you'll hear a raw, husky sound and a fearless improviser. Connor
phrased in a surging and halting roller-coaster ride, playing wildly with
time. Pain showed on her face as she stretched out ballads almost to the breaking point. Her repertoire was just as daring, drawing upon unknown Broadway shows and jazz composers.

Critics liked bashing her. John S. Wilson, the
New York Times
writer whom Charles Mingus called "John Ass Wilson," dismissed her "strained, mannered, quivering work." But no less an authority than Gunther Schuller called her "one of the most original and personal of all jazz singers." Connor was a favorite on college campuses, and her hip followers packed Birdland, Basin Street East, and the Village Vanguard to hear her.

Late in 1962, her manager, Monte Kay, informed her that Atlantic didn't want to renew her contract, and that she'd do much better with his new enterprise, FM. "Monte said they weren't happy with what I was doing, I wasn't selling enough records," said Connor in 2006. That claim was later denied by Jerry Wexler, an Atlantic producer. "So I don't know who to believe," adds Connor. (Once she'd left, Atlantic rushed to record a poor replacement, Anamari, a Greenwich Village waitress who sounded like Connor with laryngitis.)

Kay flew the singer to France to make
A Weekend in Paris
, an easy-listening disc of other people's hits. Once she got home to New York, they made this album. It captures the uninhibited side of her that only came through onstage. There was a reason: "She was very,
very
high on booze," says her soon-to-be manager Lori Muscarelle.

For now, alcohol loosened her up just enough to do some thrillingly unreined singing.
Something's Coming
is a collision course of time changes; Connor sprints through them, never stumbling. "Ah, that was a bitch to sing!" she says. But nothing could throw her first-rate trio, led by pianist-arranger Ronnie Ball, nor her guest guitarist, Mundell Lowe.

FM divided the songs artificially into an upbeat "Early Show" and a moody "Late Show." The latter is riveting in its intensity. In
Ten Cents a Dance
, Connor is a 1920s dance-hall dame whose

love comes cheap. "Boy, did I get into that!" she says. Gordon Jenkins's
Goodbye
is a slow descent into a black hole of doom. "I
loved
that!" she exclaims. "I related to it." Everything on the album pleased her "except for
Black Coffee
, when I'd had a few too many!"


FM folded after a handful of releases, leaving Connor with two obscure LPs. Her drinking accelerated and jobs grew scarce, but by the late '70s those problems were behind her. There were many recordings to come, many tours of Japan, and even more reissues. This one was overdue.