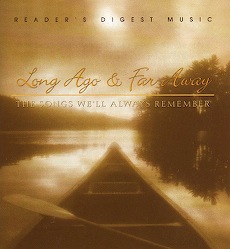 IN THE liner notes of her 1958 album
I'll Be Seeing You
, Jo Stafford spoke of the songs of the '40s as though they were Proust's madeleines – magical tokens that could uncork a flood of memories. That LP revived the ballads of World War II, a time Stafford recalled with fondness. "As the years have gone by," she wrote, "most of the bad things have been forgotten, and we remember only the good things, the heightened sense of contribution and urgency, and nothing can bring those good things back like a song."


This Reader's Digest collection is all about the songs that have formed a soundtrack to our lives. Without us even knowing it, this music has entwined itself around our most meaningful experiences. Heard years or decades later, it "can bring the past rushing back in a second," as Stafford said. She and dozens of other singers, as well as some of the most beloved bandleaders of the '30s, '40s, and '50s, will guide you through this audio journey into the past.

CD 1
TAPE 1 / SIDE A:
OUR ALL-TIME FAVORITES
This collection's nostalgic theme is epitomized in its first few songs. Topping the Oscar-winning score of
Cover Girl
, the 1944 Rita Hayworth classic, was
Long Ago (and Far Away)
, a ballad that explores the rapture of finding the love of one's dreams. In his book,
Lyrics on Several Occasions
, Ira Gershwin recalled how hard it was to write deserving words to Jerome Kern's soaring melody. It took him five efforts. Engelbert Humperdinck sings this ballad with all the reverence it deserves.

By the late '60s, when Jo Stafford recorded
As Time Goes By
for Reader's Digest, she had mostly retired from one of the most respected careers in pre-rock pop. Stafford's impeccably controlled, trombone-like delivery was more musical than sentimental, but she brings a mature, philosophical air to this classic from
Casablanca
. In 1942, the year of that film, Stafford's mentor, Johnny Mercer, founded Capitol – the label that brought stardom to her, Kay Starr, Margaret Whiting, and other singers in this anthology. Capitol also sealed Mercer's reputation as a uncommonly versatile lyricist, one who could create anything from a morale-boosting comedy tune for the troops ("G.I. Jive") to the Oscar-winning
Moon River
, a folksy ballad of utmost simplicity. Mercer and Henry Mancini wrote it in 1961 for
Breakfast at Tiffany's
, a story about endearingly ditzy call girl (Audrey Hepburn) in Manhattan. But the lyric evoked the rural setting of Savannah, Georgia, Mercer's hometown. A Mississippi-born soul singer, Jerry Butler, croons it here.

It's hard to imagine
Star Dust
as a jumping Dixieland tune, but that's how its composer, Hoagy Carmichael, conceived it in 1927. Even when Mitchell Parish gave it a lusciously romantic lyric two years later, the song still bounced along at a jaunty clip. Arranger Victor Young, himself a talented composer, recast
Star Dust
as a ballad for his boss, the bandleader Isham Jones. In 1939, a twenty-four-year-old newcomer, Frank Sinatra, recorded the song dreamily with his first employer of note, trumpeter-bandleader Harry James.

If
Star Dust
lends a nocturnal setting to the memory of lost love,
Some Enchanted Evening
speaks of nightfall as a time when Cupid is bound to strike. Written by Richard Rodgers & Oscar Hammerstein for
South Pacific
– whose phenomenal Broadway run lasted from 1949 until 1954 – the song gave generations of impressionable romantics a dangerous promise: that someday they would "see a stranger across a crowded room," and eternal love would be theirs. But to hear that ballad sung by Ed Ames – whose virile baritone led the hit-making Ames Brothers – who wouldn't trust Hammerstein's oath?

Back in 1935, Rodgers's previous partner, Lorenz Hart, had written far less loftily of love at first sight in
Blue Moon
, another tribute to the matchmaking properties of the night. The year before, Hart had penned two unrelated sets of lyrics for Rodgers's melody. One of them, "Prayer," was intended for an M-G-M movie,
Hollywood Party
, but the film never happened. The other, "The Bad in Every Man," was cut from a now-forgotten gangster flick,
Manhattan Melodrama
.
Blue Moon
, though, became one of the most versatile evergreens in the Great American Songbook, and in 1973 it found its way onto Tony Bennett's
Rodgers & Hart Songbook.


The crooner tradition that spawned Bennett began in the early '30s with Russ Columbo, the torch-singing idol who inspired Bing Crosby. Columbo scored a string of Depression-era hits, including
Prisoner of Love
. Two years later, in 1934, the twenty-six-year-old singer died of a bizarre accidental gunshot wound in the head. Several of his descendants, including the Broadway and Hollywood leading man Gordon MacRae, kept
Prisoner of Love
alive.

If love is a prison warden to the psyche, it can also be blind, as Otto Harbach knew. In 1933, the Broadway lyricist raised the latter truth to near-operatic grandeur in the tragic
Smoke Gets in Your Eyes
. Kern wrote the music, and the show was
Roberta
. Twenty-five years later, a doo-wop group turned that high-flown aria into a milestone of mellow R&B. Meanwhile, Mel Tormé helped perpetuate one of the most bittersweet farewells in all of pop,
I'll Be Seeing You
. It originated in a forgotten vehicle: the 1938 Broadway revue
Right This Way
, which ran a week and a half. Six years later, as World War II raged with no end in sight, Bing Crosby revived the song and made it a number-one hit.

From Chester, Pennsylvania, a little town on the Delaware River, came the young men who formed the Four Aces in 1949. Throughout the '50s, their ardent close harmonies took several ballads into the high reaches of the charts.
Stranger in Paradise
was their fourth million-seller. A top Broadway and Hollywood songwriting couple, Robert Wright and George Forrest, had borrowed the melody from Alexander Borodin's Polevetsian Dances; soon it was heard in their hit show,
Kismet
.


CD 1
TAPE 1 / SIDE B: OUR ALL-TIME FAVORITES
For many,
I've Got The World On A String
brings an immediate vision of Frank Sinatra, fingers snapping to a swinging band. But Harold Arlen and Ted Koehler wrote it for the Cotton Club Parade of 1934, the show that launched a sixteen-year-old Lena Horne. The version here, a late-'40s radio transcription, allows us to hear the song in a sly, bluesy interpretation by the young Peggy Lee. Also recorded for radio in the same period was a new version of
You Always Hurt The One You Love
, sung sassily by Lee's fellow Capitol songbird, Kay Starr. That song, published in 1944, was surely the biggest hit of Doris Fisher, a composer who, two years later, wrote the sultry "Put the Blame on Mame" for Rita Hayworth to sing in
Gilda
.

There was nothing of the femme fatale in wholesome Patti Page, who was born Clara Ann Fowler in Claremont, Oklahoma. For the Christmas season of 1950, Page prepared to release a novelty ditty, "Boogie Woogie Santa Claus," on her label, Mercury. For the B-side, she covered a country waltz already recorded by its composer, Pee Wee King. "Boogie Woogie Santa Claus" sank without a trace, but
Tennessee Waltz
zoomed to number one and stayed for a phenomenal thirteen weeks – making it the biggest-selling country song of its time. Those were golden days at Mercury, for in 1947 they'd launched another star: Francesco Paolo LoVecchio, better known as Frankie Laine. The singer began there as a crooner with rhythm, not unlike the young Nat Cole. This laid-back style earned Laine several hits, notably "That's My Desire." But Mercury producer Mitch Miller knew that Laine needed a sound all his own, and a song Miller chose,
That Lucky Old Sun
, transformed him into a rugged, Western-style belter. The single held the number-one slot for eight weeks in 1949, and set the style for twenty more years of Laine hits.

The woman who glorified a whole country with Irving Berlin's "God Bless America" got a much earlier start than Laine. In 1931, Kate Smith made her debut on radio – and for nearly fifty years her huge, hearty voice remained a bedrock of American fortitude. Along the way she covered one of the biggest hits of 1923 and (in a Connie Francis revival) of 1957:
Who's Sorry Now?
, the finger-wagging rebuke of a lover who blew it by leaving.

The Platters became stars in 1955, with their smoldering R&B love song
Only You (and You Alone)
. But the group's five singers – Tony Williams, David Lynch, Paul Robi, Herb Reed, and Zola Taylor – specialized in reviving ballads of the '30s and '40s ("My Prayer," "Harbor Lights, and "Smoke Gets in Your Eyes," to name three) and crooning them against an R&B backbeat. Fats Domino did the same thing in 1956 when he took a swing-era smash,
Blueberry Hill
, and remade it in the language of rhythm and blues. The song is heard here in its "authentic" form as sung by Bob Eberly, the wavy-haired singing star of the Jimmy Dorsey orchestra.

Hank Williams was the source of
Jambalaya
, Brenda Lee's rockabilly-style debut single of 1956. A pint-sized country belter from Atlanta, Georgia, Lee was only eleven when Decca signed her, but her blunt, twangy voice, almost as big as Ethel Merman's, seemed fully formed. And when Artie Shaw discovered Helen Forrest – born Helen Fogel in Atlantic City, New Jersey – her golden sound and robust delivery were so intact that she was well on her way to earning her familiar title, "The Voice of the Name Bands." (The others she graced belonged to Benny Goodman and Harry James.) In the '60s, Forrest remade her 1944 hit,
It Had to Be You
, for Reader's Digest.

The morbid doings of a Weimar-era murderer and thief formed the unlikely topic of one of the most slap-happy swing tunes ever to make the charts. "Mack the Knife" was the dashing "hero" of Kurt Weill and Bertold Brecht's
The Threepenny Opera
, which premiered in Berlin in 1928. A 1954 New York revival restored
Mack the Knife
to the public eye; two years later, Louis Armstrong made it a gleeful, New Orleans-style uptune. Bobby Darin and Ella Fitzgerald followed suit, and thereafter, most of the public paid no attention to the song's chilling words.

CD 2
TAPE 2 / SIDE A:
SONGS WE'LL ALWAYS TREASURE
Arthur Godfrey's influential radio and TV amateur contest spawned some major stars. One of them, pianist Roger Williams, crossed so many stylistic lines he couldn't be classified. Born Louis Weertz, he had studied at Juilliard in Manhattan as well as with Teddy Wilson and Lennie Tristano. His flamboyant, frilly style went on full display in his breakthrough hit,
Autumn Leaves
, a 1955 number-one single based on "Les feuilles mortes," a French chanson.

The same continental flair infused
Begin the Beguine
, Cole Porter's tango-like account of a love too dreamy to last. In 1938, Artie Shaw plucked it from the musical
Jubilee
and made it a mammoth hit of the swing era – one beloved by crooners, including Vic Damone. An authentic French waltz topped the U.S. charts for ten weeks in 1952. The esteemed composer Georges Auric wrote
The
Song From Moulin Rouge
for an American biopic of the mythic French painter, Henri Toulouse-Lautrec. Columbia Records planned an instrumental single for conductor Percy Faith; as an afterthought it was decided that Felicia Sanders, a little-know café singer, would add a single vocal chorus. Her name appeared in small type on the label – but Sanders' voice helped propel that song to number one. Joe Reisman, a reigning easy-listening maestro and producer of the 1950s, conducts the version here.

American as apple pie are
Let Me Call You Sweetheart
and the singer who performs it here, Patti Page. In 1910, when this song was published
,
victrolas were an expensive luxury item, rare in American homes. But a piano was a common piece of furniture, and it encouraged families to make their own entertainment. They bought a million-plus copies of the music for
Let Me Call You Sweetheart
. That sentimental waltz would become one of the biggest sheet-music sellers of all time. It was still beloved in 1949, when Page recorded it non-commercially for broadcast.

The members of the Three Suns, a favorite instrumental trio of the '40s, joined with a musical impresario, Buck Ram, to write the fox-trot
Twilight Time
in 1944. The Suns took it to number fourteen on the charts and adopted it as their theme. By 1958 Ram was managing the Platters, who specialized in updating schmaltzy retro ballads. He gave them
Twilight Time
and it zoomed to number one, far outselling the Suns' original. Just as sentimental, and almost as popular, was
Red Roses For A
Blue Lady
. For those whose memories date back to the '40s, the ballad brings to mind the manly, nasal baritone of bandleader Vaughn Monroe – easy to imitate, and fun to poke fun at. Yet Monroe earned nine number-one hits and dozens more that made the top forty, including this one, recorded in 1949. The next year, a tear-jerking ballad from Britain swept the American charts.
Harbor Lights
was penned by an Irish-born lyricist, Jimmy Kennedy, who lived in England for years. He wrote many American hits, including "My Prayer" and "Red Sails in the Sunset." In 1937,
Harbor Lights
surfaced on American shores in hit versions by Frances Langford and Claude Thornhill. After the war, bandleader Sammy Kaye revived it and took it to number one, and a string of cover versions popped up, including this one by Columbia's honey-blonde, Kentucky-born girl-next-door, Rosemary Clooney.

Among Columbia's '50s stable of songbirds was Jill Corey. Mitch Miller, the label's senior pop producer, had signed the seventeen-year-old Corey (born Norma Jean Speranza) based on a demo tape. The Cinderella story merited a
Life
feature. But the juvenile fluff Miller assigned hair failed to take wing, and Corey's career was short. She did introduce a standard, however:
Let It Be Me
, the English version of a French hit by Gilbert Bécaud. Corey sang it on a 1957 episode of the TV series
Climax!
Three years later, the Everly Brothers took it to number seven and made it a standard, covered by the likes of Elvis Presley, Bob Dylan, and the artist heard here, Frankie Avalon.

The Broadway musical at that time was a nearly bottomless well of standards, as it had been for years. One of those evergreens, Rodgers & Hammerstein's
You'll Never Walk Alone
, offered the stoic reassurance of a hymn. Its source,
Carousel
(1945), told of a nineteenth-century New England girl, Julie, who marries the handsome but shiftless Billy, a carnival barker. Billy is killed while committing a robbery to support their unborn child. The seemingly inconsolable Julie gains strength when a friend sings
You'll Never Walk Alone
, a song that captures the unshakable faith toward which America aspired.


Carousel
remains a classic, but
Provincetown Follies
wound up on the trash heap. This obscure revue ran just a few weeks in late 1935, but Bing Crosby rescued one of its songs,
Red Sails in the Sunset
, and took it to number one. The song became an oft-recorded weeper of the swing era. The version here is by Alyce, Donna, Yvonne, and Louise Driggs, better known as the King Sisters.

CD 2
TAPE 2 / SIDE B: MUSICAL KEEPSAKES
When the curtain rose at Broadway's St. James Theatre on March 31, 1943, audiences heard the booming offstage voice of Alfred Drake, extolling the dawn of a shining new day. Oklahoma! was the first collaboration of Richard Rodgers and Oscar Hammerstein II, and that opening song, Oh! What a Beautiful Mornin', boded great things; Rodgers recalled feeling "a little sick with joy" after he wrote it. Peggy Lee's stock in trade was intimate jazz, not bravura belting, as this late-'40s radio transcription shows. Little White Lies is no exercise in glee. It comes from 1930 – prime-time of the Depression, which was a heyday of despairing songs. This one is by Walter Donaldson, whose golden pen produced "Yes Sir, That's My Baby," "Carolina in the Morning," and "Makin' Whoopee." In 1947 Dick Haymes brought the tune back and made it a hit all over again. Occasionally a country song will "cross over" and capture a broad pop audience – and if the composer is Cole Porter, its chances are that much higher. Don't Fence Me In was an amusing change of pace for Porter, a specialist in brittle chic and worldly romance. He wrote this song for a 1934 film, Adios, Argentina, that never happened. Don't Fence Me In finally surfaced in a 1944 wartime screen extravaganza, Hollywood Canteen, sung separately by Roy Rogers and the Andrews Sisters. The song was much more sophisticated than it appeared, and seemed to represent freedom to those confined by war. Rosemary Clooney loved the song, and featured it in many of her '90s shows. The boyishly handsome Jimmie Rodgers was known for the spit curl on his forehead and for the folk and country tunes he made famous in the '50s. Kisses Sweeter Than Wine is a farmer's happy love story. The credited composer was one Joel Newman – actually the Louisiana folk and blues musical Leadbelly, who had adapted the song from a traditional Irish tune. The lyricist was listed as Paul Campbell – another pseudonym, this one for the Weavers, who made the first hit version. Ever since 1953, when he died, at twenty-nine, of an accidental drug overdose, Hank Williams has remained a country-music myth. The Alabama-born singer, guitarist, and songwriter was a honky-tonk pioneer whose hits – including "Cold, Cold Heart," "Jambalaya," and "I'm So Lonesome I Could Cry" – have become pop standards. Del Shannon, a teen sensation of the early '60s, showed how adaptable William's songs were to rock-and-roll treatment when he covered Hey, Good Lookin'. Nothing could have been farther removed from the hillbilly flirtation of that song than the stately Hollywood grandeur of Somewhere, My Love, the theme of a lushly atmospheric film set in Russia. Dr. Zhivago was based on Boris Pasternak's Nobel Prize-winning political novel of 1958. The score, by the celebrated French film composer Maurice Jarre, included a haunting theme; with words added by Paul Francis Webster, it became Somewhere, My Love. The World War II years were filled with big-screen diversions to lift the soldiers' spirits. Star-Spangled Rhythm (1942) boasted a cavalcade of stars, including Bob Hope, Bing Crosby, Betty Hutton, Mary Martin, and Veronica Lake. And its score yielded a blockbuster: That Old Black Magic, written by Johnny Mercer and Harold Arlen. A teenage Mercer protégé, Margaret Whiting, recorded the song on Capitol in 1942. Her career would thrive for sixty years. Ray Eberle's, alas, stayed confined to the big band era and occasional appearances in swing revival shows. The brother of Bob Eberly (who had changed the spelling of the family name), Ray lent his mentholated baritone to a score of Glenn Miller hits. But he wasn't on the original 1939 version of Moonlight Serenade. Miller had written this tune just before launching his historic orchestra. Edward Heyman, lyricist of "Body and Soul," had given Miller a mournful set of words, entitled "Now I Lay Me Down to Weep." The bandleader wanted to use the song as his band's theme, but he was advised against it, because the words were so depressing. Mitchell Parish of "Star Dust" wrote him a dreamier lyric, and Moonlight Serenade zoomed to number three and to swing immortality. Two years earlier, Dick Powell and Alice Faye had introduced the Irving Berlin hit I've Got My Love to Keep Me Warm in the movie On the Avenue. Bandleader Les Brown cut an unsuccessful remake of the song in 1946, but his label, Columbia, revived it in time for Christmas of 1948. This time it went to number one, and became a holiday evergreen. A former big-band vocalist from Oklahoma, Kay Starr, was just then emerging as a solo star. She recorded Berlin's song on the radio transcription heard here. CD 3 TAPE 3 / SIDE A: GREAT FEMALE VOCALISTS WE'LL ALWAYS REMEMBER Written by Jimmy McHugh and Dorothy Fields in 1935, I'm in the Mood for Love became the quintessential makeout song. Baritonal songstress Frances Langford introduced it onscreen in Every Night at Eight; thereafter hundreds of artists recorded it, ranging from Alfalfa in an Our Gang short to Mae West to the Sex Pistols. Helen Forrest sings it here with her heart on her sleeve. One of the "good girl" voices of the '50s, romantic but chaste, belonged to "Pretty" Kitty Kallen, whose throaty delivery had a Garland-like catch of emotion. Born in Philadelphia, Kallen was an ambitious girl. She got her own radio show as a pre-teen, and before she turned twenty-one had sung with Jan Savitt, Artie Shaw, and Jack Teagarden. Kallen comforted both the servicemen and their pining girlfriends with I'll Walk Alone, a woman's oath of fidelity to her far-off love. The song is still sung today, but count A Kiss to Remember among the hundreds, if not thousands, of '40s love songs that enjoyed a brief flurry of popularity than faded away. Written by Nick and Charles Kenny and Abner Silver in 1944, the song lives on only due to the recording heard here, a radio transcription made by Doris Day during the first flush of her movie stardom. A more glamorous-looking '50s songbird was born in Philadelphia with the drab name of Audrey Myrtle Arensberg. As the decade started she was living in Los Angeles and recording for a tiny label as Audrey Grant. Dave Kapp, an RCA producer, suggested she change her name to Gogi, but he didn't sign her. Instead, the newly christened Gogi Grant accepted a deal with Era, another small company. In 1955, her inspirational single of "Suddenly There's a Valley" made the top ten. The next year, Gogi Grant scored one of the biggest smashes of her era with a dramatic western-flavored ballad, The Wayward Wind. It held the number-one position for eight weeks. Only then did RCA sign her. Throughout the '40s, the Brooklyn-born pianist Walter Gross could be heard tinkling away at the piano on numerous shows broadcast by CBS, which employed him as a musical director. All the while Gross composed songs, hardly none of them known today. One exception was Tenderly, a sumptuous ballad of 1947. Sarah Vaughan's comparably luscious singing took the song to the charts. Tenderly became a favorite of countless singers, including the trumpet-voiced Kate Smith. In the hit Broadway musical The Pajama Game (1954), John Raitt sang Hey There as a piercing heart-to-heart talk with himself. Mitch Miller had assigned it to one of Columbia's stars, Johnnie Ray, but his version sank. Miller wouldn't give up on the song, and turned it over to one of the label's golden girls, Rosemary Clooney. The Maysville, Kentucky songbird's first baby was overdue, but Miller rushed her into the studio. He knew what he was doing: Hey There zoomed to number one and went platinum, thanks to Clooney's Midas touch. Years before, for his 1929 musical Wake Up and Dream, Cole Porter wrote an agonized cry of frustration called What Is This Thing Called Love? The song would become a pet favorite of '40s bebop musicians, who tossed aside the words and improvised new melodies over the chords. But torch singers like Peggy Lee extracted much of the song's torment. The protagonist of You Belong To Me, however, permits no straying from her lover. Jo Stafford made it a hit. Later she told the amusing story of how she and her husband, arranger Paul Weston, happened to choose it. "Paul and I had a record date coming up, and we had three sides picked, but we didn't have a fourth side, a B-side. Finally Paul said, 'Somebody brought this song up, and I think it's a pretty good song. You'll probably never hear from it again, but we'll have fun doing it.' That was You Belong to Me – and I don't know what the A-side was!" In 1956, Patti Page – the Oklahoma songbird known alternately as "The Singing Rage" and "The Waltz Queen" – scored her twelfth gold record and a number-two hit with one of her many singles in three-quarter time, Allegheny Moon. The moon in question shines above the Allegheny Mountains and the Allegheny River in eastern U.S. CD 3 TAPE 3 / SIDE B: GREAT MALE SINGERS WE'LL ALWAYS REMEMBER Long after his death in 1980, Dick Haymes is remembered as one of the great crooners, with a warm, rich, burnished baritone and a suave, effortless delivery. Haymes paid valuable dues with the bands of Benny Goodman, Tommy Dorsey, and Harry James. Thus established, he appeared in a string of Hollywood musicals and became one of Decca's top-selling artists. His 1945 hit, Till The End Of Time, borrowed its melody from Chopin's Polonaise in A-Flat. Starting with his first hit, the Italian ballad "I Have but One Heart" (1947), Vito Rocco Farinola – the Brooklyn-born singer better known as Vic Damone – gained acclaim for his impeccably smooth crooning. Even Sinatra admired his pipes. Damone was a remarkably consistent presence in pop for over fifty years, with a string of hit singles, film appearances, high-profile marriages (his wives included actresses Pier Angeli and Diahann Carroll), and frequent Tonight Show guest spots. Through it all, his baritone stayed just as creamy as it sounds on this cover of Doris Day's 1954 hit Secret Love. In 1931, at the height of the Depression, composer J. Fred Coots ("Santa Claus Is Comin' to Town") teamed with two brothers, Nick and Charles Kenny, to write a top-ten hit, Love Letters in the Sand. It wasn't a spirit-lifter; instead it recalled a vow of love as ephemeral as words traced in the sand. Twenty-six years later, the song became the biggest of Pat Boone's six number-one hits. The epitome of clean-cut, all-American, Christian conservatism, Boone – said to be a descendant of Daniel Boone – made his name by recording cleaned-up covers of '50s R&B hits like "Tutti Frutti" and "Long Tall Sally." The '60s was a much colder decade for singers in the classic pop tradition, but RCA still signed a number of them. The label released almost two-dozen albums by John Gary (1932-1998), an attractive baritone from upstate New York with a sprawling range, uncanny breath control, and a honeyed tone. Despite abundant appearances on Tonight and other top variety shows, Gary never scored a hit. Instead he covered the hits of others, including Kitty Kallen's number-one smash of 1954, Little Things Mean a Lot. In that song's original era, inspirational songs like I Believe regularly made the top ten. Its four authors included Ervin Drake, who would later write a Frank Sinatra trademark, "It Was a Very Good Year." Frankie Laine took I Believe to number two in 1953. His stentorian voice gave even a line like "I believe for every drop of rain that falls, a flower grows" the ring of truth. Comedienne Pat Carroll had this to say about the postwar era in which she got her start: "I think the fellows who came back wanted to get on the G.I. Bill, get into their professions, get a house in the suburbs with a barbecue on the weekend, raise their families. They'd kicked up their heels in Paris and Berlin and Tokyo. They'd been places they'd never seen before. That was enough world-saving." Still, songs such as Far Away Places – one of the biggest hits of 1949 – allowed them to experience the allure of distant locales without having to leave their living rooms. Bing Crosby loved recording songs with a foreign theme. In the decade before he died in 1977, Crosby made several stabs at recording international songs of the day. On a 1968 album, Thoroughly Modern Bing, he covered Love Is Blue, an English adaptation of the French hit "L'amour est bleu." In it, "blue" and "grey" describe the heartbreak of a troubled love affair. Romance reached the melodrama of Italian opera in the 1950 film musical The Toast of New Orleans. There Mario Lanza sang a pop aria, Be My Love, and earned a gold record, comparisons to Enrico Caruso (whom he portrayed in a 1951 film), and a nine-year heyday. It ended in 1959, when the tenor died of a pulmonary embolism at age thirty-eight. Be My Love is sung here in the lusty (though not operatic) pop baritone of Ed Ames, joined by his three brothers.

Crosby, Bob Hope, and Dorothy Lamour marauded their way around the globe in one of the most popular film series of the '40s, the "Road" pictures. The Road to Morocco (1942) took the trio to the land of sheiks and harem beauties and exotic scoundrels. But with Johnny Burke and Jimmy Van Heusen to write the songs, every Road movie contained at least one heart-rending ballad for Crosby. In this case it was Moonlight Becomes You, one of the crooner's number-one hits – and a fine match for a Crosby descendant, Mel Tormé.

CD 4 TAPE 4 / SIDE A: BIG BAND MEMORIES In the 1940s, Arthur Freed's legendary "Freed Unit" at M-G-M produced many of Hollywood's most fabled musicals. But Freed was also a composer with many standards to his credit, including All I Do Is Dream of You. On this recording, the perky lyrics (by Nacio Herb Brown) are sung by Dinah Shore, guest vocalist with Glenn Miller's Army Air Force Band, the group Miller established after he'd entered the army. Shore's session occurred on September 16, 1944; on December 15 Captain Miller died when his plane allegedly went down in the English Channel – although rumor holds that he actually died in the arms of a prostitute in Paris. To big-band historian George T. Simon, Les Brown's discovery of Doris Day in 1940 represented a teaming of "the ice-cream-soda girl with the ice-cream-soda band." Simon called the Cincinnati-born teenager "every bandleader's dream – a vocalist who had natural talent, a keen regard for the lyrics, and an attractive appearance." In this radio transcription, Day and the band cover I'm Making Believe, a 1944 number-one hit for Ella Fitzgerald and the Ink Spots. Not all band vocalists, of course, achieved Day's renown. Anthony "Buddy" DiVito is one of the forgotten voices of the swing era, despite his lengthy stint with Harry James, who joined him in a 1945 top-ten version of If I Loved You from Carousel. The year before, James had needed a singer to replace the departing Buddy Moreno. "I was riding in the car with Harry to the Hollywood Palladium one night and we were listening to the Eddie Oliver band out of Chicago over the radio," said Moreno in a 2001 interview with Jazz Connection magazine. "Someone was singing named Buddy DiVito. Harry asked me what I thought. I said he sounded fine. Harry then called him to join the band." And he stayed until 1948 – longer than any James vocalist, including Helen Forrest. But she made a mark with every orchestra that hired her, starting with Artie Shaw. One of her first hits with Shaw, in 1938, was the moody Deep in a Dream. In it, a cigarette's curl of smoke evokes a dream of love so rapturous that it could never last. Bandleader Woody Herman not only played clarinet but did much of his own singing. His cuddly rasp could deliver R&B convincingly, and in the mid-'40s he covered Is You Is or Is You Ain't (Ma' Baby), a hit for its composer, the rhythm-and-blues pioneer Louis Jordan. Benny Goodman liked to sing in his comically spacy non-voice, but he was wise enough to entrust most of the vocal duties to some remarkable talents, like Art Lund. Born in Salt Lake City, Utah, Lund had abandoned his early career as a math teacher to follow his heart and hit the road with the bands. His distinctively grainy baritone stood out from the many competent but generic band voices, and Goodman spotlighted him on such ballads as It's the Talk of the Town, a torch song from 1933. After the swing era, Lund built another career on Broadway, co-starring in The Most Happy Fella (1956), Destry Rides Again (1959), and Donnybrook (1961). Jimmy Dorsey made his most famous records with his poll-topping singers, Bob Eberly and Helen O'Connell. But the orchestra itself shone brightly on such instrumental recordings as I Got Rhythm. This Gershwin flag-waver would become a theme song of the bop movement, but Dorsey's band performed it in the swing tradition, with its melody intact. Even Guy Lombardo would have approved. The purveyor of "The Sweetest Music This Side of Heaven" was also credited with producing the squarest. Yet between 1927 and 1952, Lombardo and his Royal Canadians racked up well over a hundred top-ten hits. On a 1950 broadcast, Lombardo and his then vocalist, Don Rodney, had a go at You Were Meant for Me. Arthur Freed and Nacio Herb Brown had written that starry-eyed pledge of love in 1929, and it swept the charts. In 1948 it reappeared as the title song of a film musical that starred Dan Dailey and Jeanne Crain, and featured a cameo by the still-unknown Marilyn Monroe. That same year, maestro Freddy Martin hired a young singer who was most certainly headed for big things. Martin had heard Merv Griffin on a local radio show, San Francisco Sketchbook, and admired his friendly, conversational style. Griffin loved beautiful songs like the one he sings here, Rodgers and Hart's Bewitched. But when Griffin donned a cockney accent and recorded a campy British novelty, "I've Got a Lovely Bunch of Coconuts," he and Martin scored a top-ten hit. CD 4 TAPE 4 / SIDE B: MEMORIES FROM STAGE & SCREEN One of the towering moments in the history of the Hollywood musical – and in the career of Judy Garland – almost didn't happen. After a preview of The Wizard of Oz, Louis B. Mayer, the head of M-G-M, thought that Over the Rainbow was much too dark a song for a little girl from Kansas, and that it "slowed down the action." Harold Arlen, the song's composer, and Arthur Freed were aghast. They fought Mayer, and ultimately won. In 1939, Over the Rainbow scored a Best Song Oscar for Arlen and lyricist E.Y. "Yip" Harburg, and Garland had a theme for life. In the late '60s, Jo Stafford gave it a dry-eyed reading with conductor Paul Weston and a vocal group with which had long sung, the Pied Pipers. For the book They're Playing Our Song, multi-Oscar-winning lyricist Sammy Cahn told author Max Wilk how he and Jule Styne came to write Three Coins in the Fountain, their 1954 smash. Film producer Sol Siegel had walked into their office and announced: "Could you fellows write a song called 'Three Coins in the Fountain'? We just finished a picture in Italy. The New York office wants to call it We Believe in Love. Zanuck and I hate the title, and we feel that if we can get 'em a song called 'Three Coins in the Fountain,' it may dissuade them." Without having seen the film, Cahn and Styne obliged. Siegel got his title, and the songwriters won another Oscar. The theme music of the 1956 classic Picnic, which starred William Holden and Kim Novak, wove together two seductive melodies. One of them, Moonglow, had dominated the top ten in the summer and fall of 1934. In the '50s, film composer George Duning wrote a countermelody, combined it with the original, and came up with Moonglow and Theme from Picnic, one of the biggest mood-music successes of the '50s. Joe Reisman's dreamy recording defines easy listening. And Stormy Weather defines "torch song." Though best identified with Lena Horne, who sang it in a 1933 film of the same name, Stormy Weather had been introduced by the great Ethel Waters in the 1933 Cotton Club Parade. In her memoir, His Eye Is on the Sparrow, the long-suffering black star wrote: "When I got out there in the middle of the Cotton Club floor I was telling the things I couldn't frame in words. I was singing the story of my misery and confusion, of the misunderstandings in my life I couldn't straighten out, the story of the wrongs and outrages done to me by people I had loved and trusted … I sang 'Stormy Weather' from the depths of the private hell in which I was being crushed and suffocated." By comparison, Kate Smith seemed like a smiling monument to her country's seemingly invincible strength. No wonder she lent such authenticity to a milestone of Americana, the title song of the Rodgers and Hammerstein musical Oklahoma! One of the darker chapters of American history was explored in Show Boat, a 1927 Broadway musical that has had numerous revivals on stage and screen. Set in the pre-Civil War South, Show Boat hit its emotional peak with a nearly operatic anthem, Ol' Man River. Declaimed by a dockworker, the song sums up a history of black hardship, relating it to the endless flow of the Mississippi River. Ol' Man River is most associated with Paul Robeson, who sang it in the 1936 film version of Show Boat and frequently onstage. In the version heard here, Ed Ames unleashes his trained baritone to the fullest. Just to hear the words "Hello, Dolly, well, hello, Dolly" brings to mind the gravel tones and grinning face of Louis Armstrong, who made that rousing 1964 showtune an international smash. Carol Channing had introduced Hello, Dolly! on Broadway in the Jerry Herman musical of the same name, but Armstrong had already made a demo of it for the show's publisher. Released to coincide with the musical's opening, Armstrong's recording knocked the Beatles out of the number-one slot on the charts. It won Satchmo a Grammy, as well as a spot in the 1969 film version of Herman's show. As surely as Armstrong and Herman made theater history with that song, Cole Porter earned it with Night and Day. Perhaps his most famous, he wrote it casually in 1932. The music came to him in his apartment at Manhattan's glamorous Ritz-Carlton Hotel, the next day he wrote the lyric "while lying on a beach in Newport." It was introduced in the Broadway musical Gay Divorce, then performed indelibly by Fred Astaire and Ginger Rogers in the 1934 film version of the show, retitled The Gay Divorcee. Thirty-five years later, Hollywood remained a bottomless font of pop classics. One of them is synonymous with the craggy, genial voice of B.J. (Billy Joe) Thomas. Raised in Houston, Texas, Thomas left home to pursue a career with his group, the Triumphs. And triumph they did, with a 1966 top-ten cover of Hank Williams's "I'm So Lonesome I Could Cry." Two years later Thomas scored his first solo hit, "Hooked on a Feeling." And in 1969 he was chosen to sing Raindrops Keep Fallin' on My Head, the Oscar-winning feelgood theme of a beloved film, Butch Cassidy and the Sundance Kid.