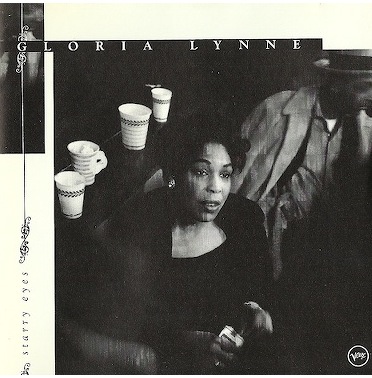 "
MAYBE it's God-given, I don't know, but I love it!" said Gloria Lynne in 1963 of her bright, bluesy trumpet of a voice. "I get exhilarated singing!" she added. "Being able to do it sort of surprises me and makes me thankful."

That attitude comes as no surprise from a singer who started out in the church, and who delivers pop, jazz, blues, and soul in a spirit of celebration. Happily for her fans, Lynne remains one of the most recorded singers in any field, with a vast series of albums that spans over forty years.
Starry Eyes
gathers sixteen tracks she made for the Fontana label between 1964 and 1966. On several of them Lynne is surrounded by lavish orchestras conducted by such masters as Al Cohn, Claus Ogerman, and Bobby Scott; other tunes find her onstage with just a quartet, giving a small club the feeling of a Sunday gospel service.

Singing, as Lynne once told Sally Hammond of the New York Post, is something she was "destined, chosen to do." Born in Harlem in 1931, Lynne drew inspiration from her mother, a gospel singer, and from a few cherished recordings by Marian Anderson and Mahalia Jackson. Church music became Lynne's focus until her teens, when the voice of Ella Fitzgerald steered her in the direction of jazz. Like Fitzgerald, she made her way to the Apollo Theater and won first prize in its famous amateur contest. But for the next several years, opportunities were sparse. Lynne joined two vocal groups, the Dorsey Sisters and the Bel-Tones, and made some obscure r&b singles on forgotten labels like Allegro, Central, and Ember.

Her luck turned in 1958, when the newly founded Everest Records signed her to a contract that yielded fifteen albums over six years. Audiences at Basin Street East, the Village Gate, and other Manhattan clubs felt the hearty presence of a woman whom Hammond had called a "bumptious, earthy type with a husky speaking voice," and who considered her talent a gift nurtured by a series of kind strangers. Interviewing her backstage at the Gate, Hammond found Lynne in a state of breathless excitement over the fact that TV's number-one variety-show host, Ed Sullivan, had come to hear her at the Apollo. "I'm telling you, he didn't have to!" she said. "And when he wasn't able to hear me the first time, because I was at the end and he couldn't wait, he came back a second time!" The singer, Hammond noted, "wore a little-girl shift of blue wool and a red hair ribbon, and the upturned toes of her Persian slippers jibed nicely with her upbeat views on wanting people to "live, love, and be happy … When things are otherwise I can feel deeply disturbed."

Lynne had reason to rejoice when critic Leonard Feather saw her at Birdland and wrote the review of her dreams. "She is a fine singer with perfect intonation, phrasing that recalls her church background, and a very pleasing ballad style," he noted in
Down Beat
. "It wouldn't surprise me a bit if Miss Lynne were to become the next really big girl singer – perhaps the most important and influential since Sarah Vaughan."

If that prediction failed to come true, other payoffs were in store. Singer Harry Belafonte heard her at the Copacabana in the early '60s and invited her to appear on his CBS TV special. In 1964 her recording of "I Wish You Love," a French ballad by Charles Trenet, made the top forty. That year she graduated to a bigger label, Fontana, a Mercury subsidiary that released albums by Cleo Laine, Mary Murphy, and Greek pop star Nana Mouskouri. Lynne launched her new contract with
Intimate Moments
, a lush orchestral ballad album with strings. In October 1965,
Down Beat
called the LP "easy, unhurried, and confident … The tone comes from way down in the midsection, and it is rich and warm…. She alters little, but when she does, the effect is startlingly appropriate."

Several of the record's dreamier moments are included here. The great jazz saxophonist Al Cohn contributed a chart of
I'm Gonna Laugh You Right Out of My Life
, the Cy Coleman-Joseph McCarthy torch song; Cohn paired Lynne's brassy voice with a flute. Her hushed vocal on
Bewitched
is set of extravagantly by Polish-German arranger Claus Ogerman, who wrote confectionary settings for Antonio Carlos Jobim, Bill Evans, Astrud Gilberto, Dinah Washington, and many others. In
Blue Gardenia
, Lynne cuts through Ogerman's strings as bitingly as Washington, who had helped popularize the song in the '50s.

The 1966 album Gloria places Lynne in a live club setting, full of late-night atmosphere. She belts out Irving Berlin's
Let's Take an Old-Fashioned Walk
with a fitting walking-bass accompaniment, and gives a raucous touch to
For You
, an old hit for Tommy Dorsey. The title song of Lynne's album
Soul Serenade
(1965) is pure r&b, with funky tenor sax and rhythm guitar. The same LP includes a perky reading of Berlin's
All Alone
, with a wailing big band arranged by Bill Rubenstein, a gifted Chicago pianist. Also notable in this anthology are two 1966 tracks,
Some of These Days
and
Happy Shoes
, that feature the arranging and piano playing (and in the case of
Happy Shoes
, the composing talents) of Bobby Scott, a white musician with a deep affinity for black music.

Three decades after these records were made, Lynne was still busy in the recording studio. Her extreme visibility on disc has made it easy to take her for granted. But in 1997, the Rhythm and Blues Foundation honored her with its Pioneer Award, a reminder that Lynne has outlasted countless pop sensations. Now comes
Starry Eyes
, an overdue look back at one of her richest periods.