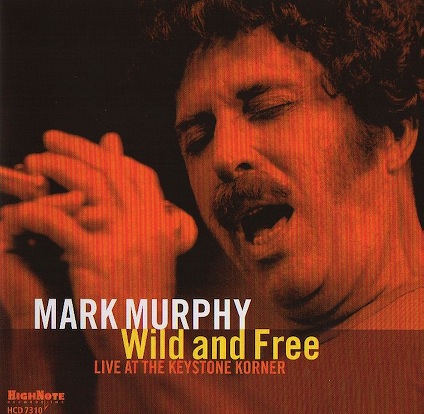 MARK MURPHY went to places of the heart that most male jazz singers fear. He was a bebop eccentric and a sad clown, and he stretched his rugged baritone to extremes. Home for him was a anguished torch song; but he could scat with the abandon of a free-jazz horn player, dole out wacky hipster jokes, and chill the blood by reading from his Bible, Kerouac's
On the Road
: "And nobody, nobody knows what's going to happen to anybody, besides the forlorn rags of growing old."
Offstage, this cult idol lived a life as convoluted and restless as his shows. He followed the work around the globe, crashing in guest bedrooms, on couches, or at the Y—whatever it took to make his art happen.

The curtain fell on October 22, 2015, when Murphy died at 83. But a personality as blazing as his is hard to silence. Murphy had gone to great lengths to make sure his voice would sing on indefinitely; he left behind over sixty albums, and new ones keep appearing. This heretofore-unreleased recording was made in 1980 at Keystone Korner, San Francisco's premiere jazz club for a decade. It captures him in what may have been his finest period. His singing is fresh, mature, and just wild enough, with a control and discipline he often abandoned in later years. His creativity is on fire, his heart wide open.

This was one of Murphy's happier times. At 48, he was enjoying a pinnacle of acceptance, much of it due to his 1978 album on the Muse label,
Stolen Moments
. The title song was an Oliver Nelson piece to which Murphy had written words; it got a lot of airplay, and enabled him to ride a new wave of interest in vocalese, which the Manhattan Transfer and bebop singer Eddie Jefferson had helped revive.

Up to then, Murphy had walked a bumpy road; numerous big breaks hadn't panned out as hoped. Born in Syracuse, New York, Murphy had made an auspicious debut on Decca Records in 1957. From there he went to Capitol, then Riverside. Though still finding his voice—he remembered his young self as a jazzy "tuxedo singer"—Murphy was named "Talent Deserving of More Recognition" in a
Down Beat
critics' poll. By 1964, however, thirteen managers (by his count) had failed to put him over with the general public. That was the year he got "killed off by the Beatles," as he saw it. Ironically, he moved from Manhattan to their homeland to start again. While honing his art in London jazz clubs, Murphy tried everything to "make it": he recorded singles in a Jack Jones style; played Jesus Christ on a TV miniseries; released a folk album; and made a singing cameo in
Just Like a Woman
, set in swinging-sixties London.

Homesick, he returned to New York around 1972. Soon he met Joe Fields, owner of the newly formed Muse label. Fields signed him to record his first American album in a decade. The collaboration lasted over thirty years, and gave him the freedom to indulge his imagination to the fullest. But he was always scuffling. For much of the '70s he "bopped back and forth between Buffalo and Cincinnati," Murphy explained, "because they were still playing my records on the radio" and he could gig locally. "It hasn't been that easy to get work on this minuscule reputation," he confessed. "If I had kids I'd probably tell them to go into jazz singing only after they had equipped themselves with another skill, like maybe plumbing."

The fact that Murphy was gay had caused him problems in the macho jazz world; he was used to snide whispers and disapproving stares. By the late '70s he and his partner Eddie O'Sullivan, whom he had met in London, had settled in San Francisco, where they could feel at home. Once a week, decked out in his curly brown toupee, mustache, bell-bottoms, and T-shirt, Murphy sang at The Dock, a restaurant with jazz in nearby Marin County. Home was an RV that he drove to out-of-town gigs.

Stolen Moments
helped launch him on a zigzagging international itinerary. But he had plenty of work in the Bay Area, along with a few pet musicians to call upon, including drummer Jack Gobetti; bassist Peter Barshay; percussionist Babatunde Lea; and Paul Potyen, his steady pianist. Recalls Potyen: "I really liked Mark. I can't say I was super-close to him. He wasn't particularly out, and he didn't talk too much about his personal life, but he was quirky and could be funny. He was very comfortable to play with. He approached the music like an instrumentalist would. There was a spirit of adventure."

He certainly showed it at Keystone Korner. Its owner, Todd Barkan, had taken over a former rock club in North Beach, one of the nightlife centers of San Francisco. A small marquee announced the acts, which included Miles Davis, Bill Evans, Charles Mingus, Stan Getz, Chet Baker, and almost every other jazz titan of the day. "It was a really great club," says Potyen, who played pre-show piano there for a time. "There was a lot of respect for the music on the part of the audience and the staff."

Murphy was promoting his latest Muse release,
Satisfaction Guaranteed
, which won him his first of several Grammy nominations. On that album he had dipped into the Lambert, Hendricks & Ross songbook for
Bijou
, the Ralph Burns instrumental to which Jon Hendricks had added vocalese lyrics. At Keystone, Murphy sang that and three more of the trio's trademarks,
Farmer's Market
,
Fiesta in Blue,
and
Charleston Alley
. His versions are preserved here. No far-out interval or octave leap is too much for Murphy, who glides across every minefield, swinging all the way. Potyen tosses him ideas but never gets in his way; the pianist breaks into funkier sounds when the coast is clear. "Todd told me once, 'You sound like Wynton Kelly on acid.' I would do crazy shit sometimes. There was this Wynton-kind of swing that I incorporated into my style, that kind of groove thing."

Bossa nova entranced Murphy, particularly
Waters of March
, a portrait of the wheel of life in all its mystery. Around a recurring two-note figure, Antônio Carlos Jobim had fashioned a syncopated, harmonically boundless landscape; the lyric (his own) is a whirl of snapshots that encompass creation, nature, death, and rebirth. Murphy bounds through it nimbly, building to an explosive finish.
Stompin' at the Savoy
is even more of a breakneck tour de force. Murphy is on a dizzying obstacle course throughout; he makes surprise modulations, bursts into scat choruses accompanied only by Potyen or Barshay, lurches into the stratosphere with a "WEEEEEE!"

It's virtuoso jazz singing, but Murphy's psychologically complex, searching way with a ballad is what truly made him inimitable. He sings
It Might As Well Be Spring
with the cautious wonderment of a man who couldn't quite trust happiness; then he takes a chilling downward slide into a much darker view of the season,
Spring Can Really Hang You Up the Most
. Murphy is urgently in the moment and full of surprises; there are ghostly wails, falsetto highs, and descents into bass territory. Potyen creeps beside him, listening closely and guiding him through the dark. Murphy sang
I've Got You Under My Skin
until he was close to eighty. "He did that at an incredibly slow tempo, and I thought it was just hypnotizing," says Potyen. "It's almost like a meditation. The hairs go up on my arms just talking about it."

Murphy's recordings tend to have that effect, and he knew it. "Everything I've done has held up," he said proudly in 1992. "People just do not forget those albums." This one stands among his best.